Justice Marie-Josée Hogue is expected to hold hearings in late January as the commission begins its work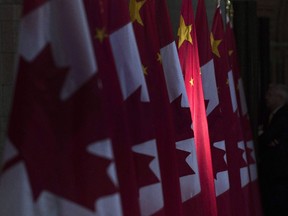 OTTAWA – The highly anticipated public inquiry into whether China, Russia or other foreign actors interfered in the past two federal elections has been quietly getting underway in recent weeks.
The commissioner, Justice Marie-Josée Hogue, is expected to hold hearings in Ottawa in late January, with an interim report to be issued at the end of February and possibly more hearings in September. A final report to be issued by Dec. 31, 2024.
You are reading: What you need to know about the upcoming public inquiry on foreign interference
What are the steps taken until now to set up a public inquiry, and how will Justice Hogue have enough time to hear from all interested parties with such strict deadlines?
The National Post spoke with André Ryan, a Montreal lawyer and partner in BCF's Litigation and Governance groups who has participated in four different commissions of inquiry at the federal and provincial levels, to demystify the process and share his thoughts on the road ahead.
The interview has been edited for length and clarity.
Justice Marie-Josée Hogue officially started her mandate as commissioner on Sept. 18, 2023. Two months later, we now have a website, a counsel team, and some timelines, but no hearings just yet. Why does it take so long to get things started?
I would say long is relative. The commissioner is a sitting judge of the Court of Appeal, which has a full role and a very busy schedule. You can imagine that she had some files under advisement and that she was already scheduled to sit on some cases.
I know that she initially requested a period of a couple of weeks to kind of put things behind her, then I would imagine she had to be briefed extensively by numerous people in Ottawa. After that, she had to put together a team, organize the logistics of a commission, eventually find a site where hearings are going to take place. Those things may seem easy, but do require time.
I understand that from a public standpoint two months may seem like a lot, but I think she turned things around pretty efficiently and her timing is right.
One of the first deadlines set by the commission is for interested parties seeking an active role in the commission's work to apply for standing by Nov. 22. What are the criteria to obtain that status and how will it be decided?
Readmore : Uttarakhand tunnel collapse: Rescuers make contact with workers trapped in rubble
The status of a party rests on your ability to demonstrate to the commission that you can positively contribute to the accomplishment of its mandate. It comes with a lot of responsibilities and a certain number of rights that are enviable.
Among those important rights are the following: to attend all hearings, ask questions to the witnesses, produce documents, produce evidence, obtain witnesses statements, evidence summaries, and provide the commission with comments before they are released.
So it's extremely powerful for a person or an institution that is concerned with the work of a commission or preoccupied with the potential outcome of the commission.
The commissioner has stated that, if necessary, she would be holding hearings on Nov. 29 on some of those requests. That is going to be interesting because it would be our first opportunity to see the commissioner and her team in action.
Justice Hogue will be working with some very strict timelines, as she has to issue an interim report next February and her final report at the end of 2024. Do you think this gives her enough time to dig into foreign interference from China, Russia and other entities?
As an observer, I'm going to be extremely curious to see who is actively seeking the status of parties to the commission because this is likely going to give an indication of how deep we're going to go into this.
The way I see it, there may potentially be different levels of influence. The most obvious ones are people like Conservative MP Michael Chong or former MP Kenny Chiu, since they appear to be the subject of direct attempts or influences. So that would be the first level.
The second level, certainly, is indirect influences. I think obviously of the Trudeau Foundation and big donors for large institutions such as the University of Montreal. Will those people seek a status of will they try to fly under the radar and hope that they're left alone?
Are we likely to see big tech companies being convened to testify to see how social networks are utilized? And if they are convened, are they going to seek some kind of status?
So that, to me, will determine whether that timeline is realistic and as well will help us determine what to expect from this commission.
Readmore : B.C. Securities Commission to offer cash to whistleblowers
Justice Hogue is considered to have little background in national security. Given the complex issues at hand, is this going to be an impediment to her work?
I'm not preoccupied at that level at all. She is a brilliant jurist, and a well-respected Justice on the Quebec Court of Appeal, extremely intelligent and savvy, polished, fully bilingual.
The federal government first resisted the idea of a public inquiry, arguing that most of the hearings would not be public and would be held in camera because it pertains to national security. How will the commissioner decide what can be heard in public hearings?
I would think that there are two compelling factors that will determine what should remain confidential. First is anything that pertains to pending investigations, like criminal investigations. Second is anything that is likely to reveal means of investigating potential crimes.
Otherwise it's going to be very hard to justify not making the information public.
Foreign interference has been such a hot-button issue for the better part of the past year. In your opinion, is a public inquiry the right way to look into this? And do you think the commission's work by the end of 2024 will be enough to close the lid on this very important subject?
I have a lot of faith. Commissions of inquiry are very powerful tools. They were designed originally to assist executive power in crafting policy that is adapted to complex circumstances which are hard to grasp at the government level.
I think it's better suited, equipped and, more importantly, independent than, for example, senatorial hearings or committee hearings in Parliament. Now, whether it's sufficient, that remains to be seen. I think it's going to lead to many more questions in the future.
So, if anything, I think it will be a call for action and a reality check for most of us.
Our website is the place for the latest breaking news, exclusive scoops, longreads and provocative commentary. Please bookmark nationalpost.com and sign up for our politics newsletter, First Reading, here.