Billions of dollars of proposed CCUS projects in the province have been announced over the past three years but the ability to apply for a federal tax credit has been slow to crystalize.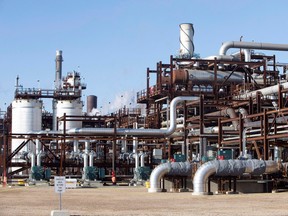 Alberta businesses seeking to decarbonize their operations through billion-dollar carbon capture and storage projects should finally see a payoff for their patience.
As part of the fall economic statement, federal Finance Minister Chrystia Freeland will release details on the long-awaited investment tax credit for CCUS and proceed with required legislation to start paying incentives for eligible projects, a source told Reuters.
You are reading: Varcoe: Alberta businesses anticipate new federal incentive details to spur billions in carbon capture projects
In Alberta, several companies, industry groups, and the provincial government are expecting more specific information to be released on federal incentives for such developments, which capture carbon emissions and then store them deep underground.
Billions of dollars of proposed CCUS projects tied to petrochemical facilities, oilsands plants and power-generating facilities in the province have been announced over the past three years.
Turning those proposals into reality will be critical for decarbonizing key industries and creating jobs in the province, as the country strives to reach net-zero emissions by 2050.
Yet, the ability to apply for the investment tax credit has been slow to come to fruition.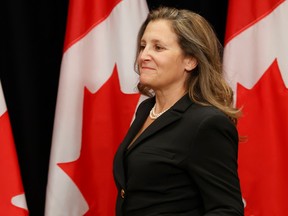 "We are tracking at least a dozen — probably now more than 15 — proposed petrochemical investments in the province of Alberta and nearly every one of those will involve (CCUS) activities," Bob Masterson, CEO of the Chemistry Industry Association of Canada, said Monday.
"It's going to need some support."
Initially proposed in the 2021 federal budget, the Trudeau government later announced in its April 2022 budget that the new investment tax credit would be set at 50 per cent for spending on equipment that is needed to capture CO2.
A 37.5 per cent credit would be provided for investments in equipment used in transportation and storage for such developments.
"It is really important for the energy industry in Canada because it extends the life of Canada's largest industrial sector and maintains our competitiveness over the long term," said Scott Crockatt with the Business Council of Alberta.
Readmore : North Korea says it put a military spy satellite into orbit on third try
"What we really need to see is the dollars flowing to get the facts on the ground and it sounds like that is what we're going to see."
Several big-ticket projects are already being examined. Capital Power is working on a proposed $2.3-billion carbon capture and storage development near its Genesee Generating Station.
Dow Inc. has proposed building the world's first net-zero carbon emissions ethylene cracker and derivatives complex at Fort Saskatchewan, which could potentially cost $10 billion to develop. Captured carbon dioxide would be sequestered off-site.
A group of six major oilsands producers — the Pathways Alliance — wants to build a $16.5-billion carbon capture network in the province, with a CO2 trunk line connecting oilsands facilities to an underground storage hub near Cold Lake.
Shell Canada has proposed a large-scale CCUS project near Edmonton, capturing carbon dioxide from the Scotford refinery and chemicals plant complex.
However, few projects have received the green light as companies have been waiting for final investment tax credit program details and necessary federal funding to back it up.
While the province has been working on its own CCUS incentive package, the Alberta government has expressed frustration with the Liberal government for dragging its feet on its program.
"We are hoping Ottawa finally follows through on these commitments with details and a program that industry can immediately access," Alberta Energy Minister Brian Jean said in a statement.
"Private industry is waiting for the federal government to act."
Businesses have also been closely watching as the Biden administration assembled an aggressive incentive package with its U.S. Inflation Reduction Act last year, sparking concerns that investment dollars in decarbonization ventures will flow south of the border.
Industry leaders are also waiting to see if Ottawa will establish a contract that can lock in a national carbon price into the future, providing more certainty for long-term investments.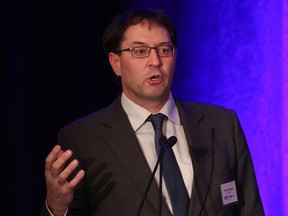 "There's no question that we really now need those details," said Tristan Goodman, president of the Explorers and Producers Association of Canada.
Readmore : 'Snowmazing' conditions lend to early openings for some southern Alberta ski hills
"We need to know the details of exactly when it is implemented, who would actually have access to this, and what are the financial conditions associated with it."
The International Energy Agency notes that more than 500 proposed CCUS facilities are in various stages of development.
Carbon capture, electrification and methane reduction are three of the key opportunities for the oil and gas sector to significantly cut emissions over the next five to 10 years, Goodman said.
Canada's oil and gas sector generated about 28 per cent of all emissions in the country in 2021.
Ian Nieboer, managing director of energy transition research at consultancy Enverus, said CCUS technology is critically important for the industry, both in Canada and internationally, to decarbonize.
Companies need certainty around government rules and incentives before they can make final investment decisions.
"In the absence of clarity, people can talk a good game and get excited about what they might do," he said.
"But it's very hard to talk about what they will do and make those commitments (without clarity). Crossing the next bridge … is a really big deal."
The premier recently pointed to the existing Alberta Petrochemicals Incentive Program (APIP), which offers grants worth 12 per cent of a project's eligible capital costs, as a potential model for a new carbon capture and storage assistance package.
"If it goes ahead the way it's been discussed, I'm envisioning something that could cost — if it's similar to APIP … it potentially can be between $3 (billion) and $5 billion, say over 10 years to Alberta," Finance Minister Nate Horner said Friday.
"The feds are going to have to put their dollars in before Alberta will spend any."
Chris Varcoe is a Calgary Herald columnist.