The new deals mean that Honda, Hyundai, and Toyota are raising their workers' wages to stay competitive as well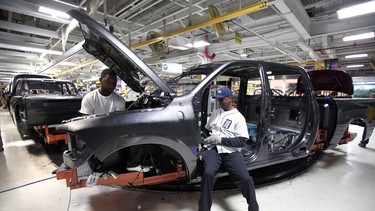 Members of the United Auto Workers union (UAW) have ratified their contracts with all three of the Detroit-based automakers, bringing a final end to strike action that started on September 15 after negotiations during the summer failed to come to agreements.
The members voted to accept the contract with Stellantis by a 68.8-per-cent margin, while those at Ford voted 69.3 per cent in favour of ratification. Workers at General Motors late last week had voted in favour of their contract, but by a narrower 55 per cent.
You are reading: UAW ratifies contracts with all three Detroit automakers
The union gains in the contracts at all three were roughly the same, and included wage increases, job security, an end to wage tiers, less time needed on the job to reach maximum wages, and reinstatement of benefits the union said it forfeited as part of the automakers' restructuring during the financial crisis of 2007 to 2009, including cost-of-living allowance and adjustments to benefits and pensions.
In addition, the automakers have agreed "in principle" to bring any new battery plants they open into the UAW's national contract, and the Stellantis contract included bringing a shuttered auto plant back into production. All of these newly-ratified contracts will expire in April 2028.
The UAW has traditionally targeted one of the three automakers at a time and, if negotiations failed, went on strike against all of its facilities. When a contract was ratified, it would be used as the template for the remaining two automakers.
This time, for the first time ever, the union used a tactic it called a "Stand Up Strike." It targeted all three Detroit automakers at once, but when talks broke down with any of them, workers walked off the job only at specific factories. The UAW said this allowed it to increase pressure as needed by striking at a progressive number of factories, while maintaining the cash in its strike fund for a longer period.
While plants operated by foreign-based automakers in the U.S. generally aren't unionized, it's reported that Honda, Hyundai, and Toyota have raised their wages in the wake of the UAW action. As with the union contract, these companies will increase wages annually, until they reach a 25-per-cent hike over current wages by 2028.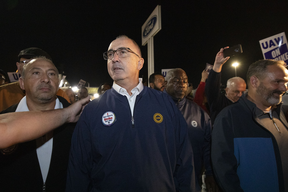 The increase seems to have been driven by UAW president Shawn Fain's announcement that the UAW would "aggressively" try to unionize those plants, according to the Associated Press. Fain also said that while the wage increase is similar for non-unionized workers at those plants, the UAW members at the Detroit automakers will receive "far better health care and retirement benefits." Fain said he also plans to try to unionize Tesla's factory workers.
The AP report also said that Detroit automakers lost millions in revenue during the strikes and had cut costs in advance of absorbing the increased costs of the contracts. Ford reported to the news agency that labour costs would rise by US$850 to $900 per vehicle with the terms of the settlement.
Unifor, which represents auto workers at the Detroit-based auto plants in Canada, pursued the traditional bargaining methods rather than the Stand Up Strike. It ratified its contracts with Ford in September; with General Motors in October; and with Stellantis in early November. On November 16, followed a brief strike action, Unifor also reached a tentative agreement with auto parts manufacturer Magna.