Popular pop-era group the Tenors has a new holiday-themed album out.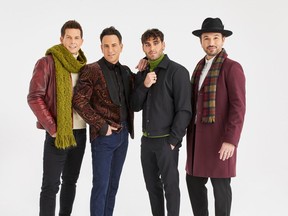 Reviews and recommendations are unbiased and products are independently selected. Postmedia may earn an affiliate commission from purchases made through links on this page.
Christmas with the Tenors Tour
When: Nov. 26, 6:30 p.m.
You are reading: The Tenors harmonize for the holidays on Christmas with the Tenors
Where: Queen Elizabeth Theatre, 630 Hamilton St., Vancouver
---
Previously known as the Canadian Tenors, the quartet formed in Victoria in 2004. Over the years, it has graced everywhere from Carnegie Hall to the Kennedy Center and shared stages with everyone from Paul McCartney and Justin Bieber to Neil Young.
Members Mark Masri, Victor Micallef, Clifton Murray and Italian singer Alberto Urso will be bringing the Christmas With the Tenors Tour across Canada this November and December.
With almost two decades of entertaining fans all over the world, the group has performed across five continents. It's mix of classical gems, contemporary covers and original material is delivered in English, French, Spanish and Italian.
Christmas with The Tenors maintains this approach, packing in everything from Sia's Snowman and Irving Berlin's I've Got My Love to Keep Me Warm to revisiting the seasonal classic Christmas Time is Here from the enduring 1965 animated special, A Charlie Brown Christmas. Naturally, to showcase the members' big pipes, pieces such as Ave Maria are included as well.
Working with Canadian producer Bernie Herms, whose credits include Josh Groban, Barbra Streisand and others, the group has crafted a very polished record.
Grammy and Juno-nominated Masri chatted with Postmedia News about the new album and tour:
Q: This is the perfect time of the year for the kind of music-making the Tenors specialize in isn't it?
Masri: It seems like our fan base are real lovers of the season, as we are. Getting out on the road in November and December has traditionally been a very good time for the group. Even before I joined 10 years ago, I knew this from talking to them over the years. So I really look forward to the season.
Readmore : Three new categories as SIFA celebrates 10th anniversary
Q: You've been a member for awhile, but have history with the group that goes way back don't you?
A: They first approached me 17 years ago to join when one of the founders left, but I had to turn them down. Over the years, I was the fill-in who could get the call at noon to be at the airport by six to just jump right into a gig without any practise. When Fraser Walters decided to leave to spend more time with his family, I was the natural call and, this time, the stars all aligned.
Q: There are a lot of holiday albums out there, including two previous ones by the Tenors. How do you keep them sounding fresh?
A: Good question, because it's pretty easy to exhaust the classical crossover repertoire after two full albums. That is what caused us to divert a little bit on the new one and take a detour, opting to go with those fun, joyful songs from our childhood you don't expect to hear like Feliz Navidad and other low-hanging fruit. It's been a lot of fun and brought out some colours we haven't had before.
Q: A Charlie Brown Christmas' tune is really a contemporary holiday classic, isn't it?
A: One hundred per cent. You can't think about the season and not think about sitting on the couch in your PJs watching that Christmas special. Listening to these overly simplified versions of a lot of seasonal classics and then Christmas Time is Here comes along. In terms of a modern classic, it certainly fits the bill.
Q: Many pop stars have had massive holiday hits, such as Mariah Carey's All I Want For Christmas is You. Your take on Chris Rea's Driving Home for Christmas makes a strong case that the song just might be an overlooked gem, doesn't it?
A: I think it was one of those songs that we weren't all sold on at the same time. Once we started working on it, the potential became clear. My dad turns it up whenever it comes on in the car, and Clifton's mother said she hoped we would record it even before it was under consideration. Enya's Only Time is another example of an iconic song that suits, because without being a blatant Christmas song it evokes that longing for home and warmth that comes with winter.
---
Christmas With The Tenors Canadian Tour
Tour dates
11/23: Royal Theatre, Victoria
Readmore : Can AI-generated art help us understand the future Octavia Butler saw?
11/24: Sid Williams Theatre, Courtenay
11/26: Queen Elizabeth Theatre, Vancouver
11/27: Northern Alberta Jubilee Auditorium, Edmonton
11/20: Southern Alberta Jubilee Auditorium, Calgary
11/30: Casino Regina
12/1: Club Regent Event Centre, Winnipeg
12/14: Caesars Windsor, Ont.
12/16: Southam Hall, Ottawa
12/17: Peterborough Memorial Centre, Ont.
12/18: Roy Thomson Hall, Toronto
12/20: Centre in the Square, Kitchener, Ont.
12/13: Théâtre Outremont, Montreal
---