The changes are to come into effect within two years, following development of the content with stakeholders.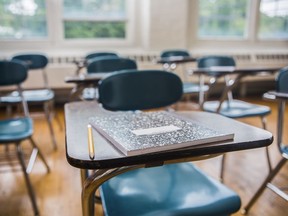 Saskatchewan has announced that a mandatory section teaching students about the Holocaust will soon be added to a core Grade 10 course taught across the province.
A renewed curriculum for Social Studies 10, to be introduced in two years, will include a compulsory unit about the Holocaust for Grade 10 students.
You are reading: Sask. adding Holocaust education to Grade 10 course
Readmore : 'I was crying, screaming, praying, terrified': A Gaza resident reports on life under siege
Students have the option of taking a social studies, history or native studies course to fulfil minimum credit requirements for the 10th grade, none of which include units on the Second World War.
Currently, students learn in detail about the war and the systemic genocide of six million Jewish people, and at least five million other prisoners of war, in the 20-level history curriculum, typically delivered in Grade 11.
Quoted in a press release issued Monday, Education Minister Jeremy Cockrill said moving this topic forward a year will have long-reaching value.
Readmore : The US workforce has changed — states need to adapt 
"Antisemitism, unfortunately, is a prejudice that remains a problem in Canada," Cockrill said. "Knowledge of the atrocities committed during the Holocaust is important for our youth as it helps reduce hate and discrimination in society."
The process to restructure the 10-level course promises to include teachers and curriculum experts, as well as seek input from the Jewish community in developing the content.
Compulsory education on the Holocaust has also been introduced in Alberta, B.C. and Ontario.