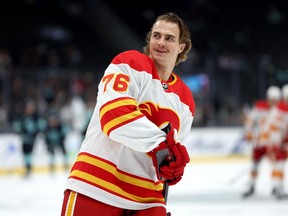 A little over two weeks ago, the last time the Calgary Flames were in Seattle, Kristian Pospisil impatiently watched the clock tick toward 4 a.m. in Brno, Czechia.
His younger brother Martin was poised for his NHL debut. Kristian, himself a pro hockey player, was not going to miss it — at any hour.
You are reading: Martin Pospisil has been a hit with Flames, and his 'favourite player' couldn't be more proud
"It was a long wait, but I was so excited that I was almost feeling like I was going to play, you know?" Kristian said. "I was so excited for him and so proud. And when he scored that first goal, I was kind of crying.
"It just hit me. It seriously just hit my emotions. Even when I was watching the highlights the next day, when I woke up, it was still emotional for me. I can't even say why. Probably because of his story, what I know is behind it, maybe that's why it just hit me. I was just so proud of him."
Martin, a relative unknown as recently as a month ago, has been an immediate hit with the Flames.
Heading into Monday's clash at Climate Pledge Arena in Seattle, the rookie forward had collected five points — three goals and two assists — in seven NHL outings so far. He's impressed with his speed and his skill. Since his call-up from the AHL's Wranglers, nobody on the Flames' roster has been credited with more bodychecks. Just turned 24, he is certainly pushing to make this a permanent promotion.
During a two-game homestand this past week, the wrecking-ball winger from Zvolen, Slovakia, made his presence known by bowling over Norris Trophy frontrunner Quinn Hughes of the Vancouver Canucks and then flashed his soft hands by scoring on a patient deke against the New York Islanders.
Readmore : Jets defense gets big lift with Sauce Gardner, D.J. Reed cleared for Giants game
Martin, who was a fourth-round pick in the 2018 NHL Draft, is already adored by the crowd in Calgary. But his biggest fan, and this is no knock on the C of Red, is currently based in Brno.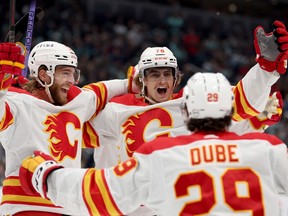 "I'm really proud of him. I have never been probably as proud of somebody as I am right now," said Kristian, a 27-year-old forward for Kometa Brno in the Czech Extraliga. "I don't know how to translate it, but he wasn't scared of the opportunity, you know what I mean? Big job to do, big stage of his career … I can't imagine what was going on in his head. And to step on the ice and not think about outside and just play, that's what impresses me. He just enjoyed it. He was trusting himself, trusting his abilities, trusting his work. And he showed it on the ice. He trusted himself that he can be an NHL player and I know it's just a few games, but he showed that he belongs there.
"It's not only about goals or assists. He showed it also with the way he plays, how hard he's working, forecheck, backcheck, those kinds of things that not everybody will see but he's doing those details. That's what I'm happy about.
"It's just something special for us — for him and for all my family."
On the day he was called up from the farm team, during a get-to-know-the-new-guy scrum with the Flames media, Martin described Kristian as "my favourite player."
"Hopefully, one day, we will play together," he added.
That was always their goal. Kristian and Martin are the second- and third-oldest of five Pospisil brothers. Despite an age gap of three-and-a-half years, these two were particularly close, bonded by a childhood sporting passion that turned into a career pursuit.
Kristian left home as a teenager to play junior hockey in North America. He later signed with the Toronto Maple Leafs' affiliate, spending most of 2017-18 in the ECHL and also suiting up for two appearances with the AHL's Marlies.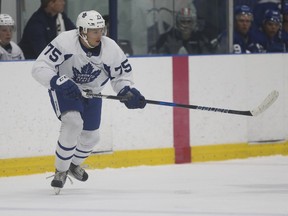 Readmore : Chip off the old block: Travelling a path to the pros, Brad Gardiner follows in the footsteps of dad
His path was altered by a lengthy absence due to a torn ACL — if you know Martin's injury history, you realize that resilience seems to run in this family — but he has since won a championship in Finland's top league and was part of Slovakia's historic run to a bronze medal at the 2022 Winter Olympics.
That helps explain why Kristian had tears in his eyes when Martin notched that first NHL goal.
"All the emotions and what goes also through me and for my brother and the whole family, it's pretty special," Martin beamed. "He was helping through the hard times, when I had the concussion and all injuries. He was always helping me, so it's pretty special for him, too.
"He's a big part of my life and my journey. He was helping me all the way to where I am now."
Where Martin is now is where, as kids, they both hoped to be.
"That was my dream too, to play NHL," Kristian said. "But that's life. Not everything goes how I want. I'm happy how my career goes, too. It's a little bit different, but I'm proud of myself too, what I've done.
"When I watch him, for sure, I want to play there. But at the same time, I'm just as happy when Martin is playing. At least one guy from our family is in the NHL."
Wes Gilbertson and Danny Austin have been covering the Flames for years and know what makes the team tick. Have questions? They have the answers – or the contacts to track them down. Send your questions to [email protected]