"I think you have to really take a hard look at who's leading our province right now," said BASAC executive director Amber Stewart.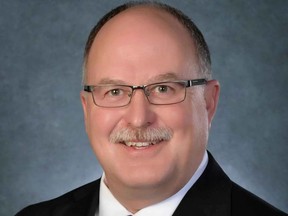 Last week, MLA Ryan Domotor was charged with soliciting sexual services and removed from caucus. Amber Stewart, executive director of Battleford and Area Sexual Assault Centre (BASAC) says she finds it "interesting."
"We have an MLA, who, not a month ago, sat and voted to remove rights from vulnerable youth and who has participated in supporting sexual assault centres being banned," said Stewart.
You are reading: 'It's concerning': MLA accused of soliciting sex called out by sexual assault centre
Stewart added that she doesn't know the alleged details of the dynamic between Domotor and the sex worker, and that she supports those that choose that line of work, but acknowledged that many sex workers are lured into it.
BASAC provides prevention education for school and organizations. But since the Parents' Bill of Rights was passed last month, groups like BASAC have been shunned from educating in schools.
"When we have a government that's making all these decisions and trying to have total control over everything, and then we have one of their members participating in something like this, I think you have to really take a hard look at who's leading our province right now," said Stewart. "It's concerning."
The Regina Police Service (RPS) confirmed on Monday afternoon that the arrests occurred at a hotel in the city, and that investigators were not targeting the business, but that investigation led them to the hotel to make the arrests.
Readmore : NYC spa day gone bad as woman wakes up trapped in hyperbaric hell: suit
The StarPhoenix reported that RPS laid a charge earlier last week during an enforcement "project" targeting sexual exploitation and human trafficking between Nov. 14 and Nov. 16. Domotor, 56, was among 15 others that were arrested. He is charged with communicating for the purposes of obtaining sexual services.
Police said that Domotor was arrested at a business in east Regina at about 2 p.m. on Nov. 16, and is scheduled to make his first court appearance on Jan. 4, 2024.
"What happened is disgusting and vile, to be quite frank," Premier Scott Moe told reporters Monday. "This is a government that needs to be supportive of women that are in a vulnerable state, not exploiting them."
Moe said his office confirmed the charges with Regina Police, before issuing a statement within "one or two hours." He said the expediency was necessary, and stood by the decision to remove Domotor from caucus prior to any conviction.
"It's very serious situation, and a situation where I think the actions are exactly the opposite of what any government members should be doing," said Moe.
"The fact that (Domotor) thought he could just do this and get away with it is problematic," said Stewart. "I am happy to see that he's been removed from caucus, but I'm interested to see how the legal process is going to follow through with this." Stewart added that closure and justice for sexual assault survivors is hard to come by in the justice system.
Readmore : "Never wanted to settle…want to achieve more": Hockey player Uttam Singh
Police said that the arrests were part of a pro-active operation organized and carried out by its VICE Unit, which investigates all sex crimes.
"This type of project is something that the VICE Unit carries out several times a year to pro-actively combat sexual exploitation and human trafficking," said RPS in a statement, adding that no actual victims were involved and no one from the public was at risk in the investigation process.
Domotor was elected MLA for the Cut Knife-Turtleford Constituency in the October 2020 provincial election. He has been appointed to the cabinet committee on the economy until the announcement Friday.
He was described in his legislative biography as being a former curling club executive. He served on the Town of Turtleford council for 12 years and was the area coroner for 17 years.
According to his biography, he and his wife live in Turtleford, where they have lived for the last 29 years. They share two sons.
– With files from the StarPhoenix and the Canadian Press