Owners of the marque's SF90 models are asked to keep it in PARK because leaking oil could start a blaze underhood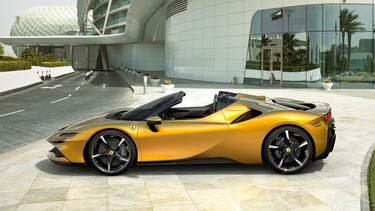 Owners of Ferrari's SF90 Stradale and Spider are being asked not to drive the cars over a potential fire risk tied to the supercars' twin-turbo 4.0-litre V8. The recall on the vehicle applies to 62 examples from model years 2022 through 2024 in Canada; and another 614 in the U.S.
The SF90, Ferrari's first series-production PHEV, uses the above-mentioned V8 and an electric motor to generate 986 hp. On affected vehicles, it's the gas half of the equation that's the issue: the oil delivery pipes for the engine's turbochargers feature a defect in their thickness, which could lead to a leak, posing a fire risk if that leaking oil falls onto a hot component.
Ferrari dealerships will replace defective turbocharger oil-delivery pipes free of charge, with recall notification letters sent to affected owners mid-December.