'I don't know where we're at. The court is a completely different colour,' rapper says as he attends first home game this season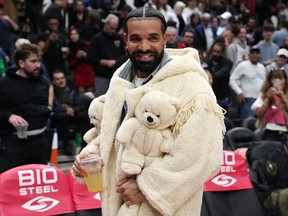 "I feel like the last time I was here was 1998. They were wearing dinosaurs on the jerseys. I feel like I'm in a time lapse right now. First of all, this guy's not [former coach] Nick Nurse. I haven't been here in awhile," Drake said, alluding to new bench boss Darko Rajaković. "I don't know where we're at. The court is a completely different colour. [Celtics guard] Payton Pritchard's out there looking like a crypto scammer. This is crazy. What's going on, boys?"
The Toronto rapper is the club's Global Ambassador and has courtside seats, but he hasn't attended a game in person to watch the new-look team this season.
The Raptors were trailing the Celtics 65-49 at halftime, but the team went on a 9-0 run to open the third quarter when Drake "walked in."
Readmore : I'm a Londoner living in America, and this is the New York hotel I love
During his chat with commentators Matt Devlin and Jack Armstrong, the Grammy winner bragged about his 6-year-old son Adonis' chart-topping hit My Man Freestyle, which featured Raptors rookie Gradey Dick in the basketball-inspired video.
On the track, Adonis raps: "I was waiting for this moment to arrive/ I was driving in the car and I smash my car/ I was playing on my iPad and I broke my iPad/ I'm going to my house, seeing my dad/ I am saying hi to my dad and I have to go change/ I'm playing basketball."
"My son's streaming a lot better than some guys out on tour," Drake boasted on the simulcast.
As the Raptors and Celtics went back-and-forth with lead changes in the fourth quarter, the Hotline Bling artist praised Scottie Barnes' more physical game play ("That's the weight room right there") and the team's new City Edition jersey which celebrates its 10-year partnership with the hitmaker.
"It is what it is," Drake said of the gold colour-way which features "Toronto" across the front and "We The North" on the bottom. "It's an OVO city. Always has been, always will be."
Readmore : 'Fast & Furious' filmmakers fined $1M after stuntman breaks skull
Elsewhere, Drake joked that the "telecast should be rated M for mature, the way that tequila shot has me feeling" and gave a shoutout to his favourite Burger King restaurant in the city "on Weston Rd., right next to Shoppers Drug Mart."
Pritchard wasn't the only one taking potshots from Drake. He chirped pal Jayson Tatum ("He's nervous because we're friends") and the officials as the Raps went on to lose 108-105. He also praised Matt and Jack, telling the pair, "It's hard to call a game and not have bias."
The Raptors' next tournament game takes place Nov. 21 in Orlando against the Magic.
X: @markhdaniell