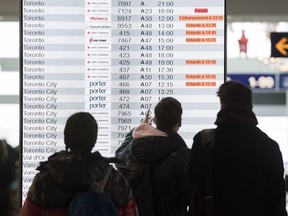 A new report says the country's two biggest airlines ranked last for on-time performance among large North American carriers last month.
Aviation data company Cirium says nearly 28% of Air Canada flights, or more than 8,700, landed late in October, placing the company ninth out of 10 airlines on the continent.
You are reading: Canadian airlines rank last for on-time arrivals in North America
Readmore : Ex-Marine Daniel Penny should have known chokehold would kill Jordan Neely because of military training, warnings: prosecutors
The report found WestJet came last with nearly 29% of arrivals touching down late — defined as more than 15 minutes after scheduled arrival.
The two airlines' on-time percentage of just over 70% falls far short of the North American average of 80% — itself the lowest of any region globally — while Delta Airlines, United Airlines, Alaska Airlines and American Airlines all notched north of 85%.
Readmore : Joe Jonas and Sophie Turner speak out after 'successful mediation,' vow to be 'great co-parents'
Nonetheless, Air Canada's outcome marks an improvement from its tally of 68% the previous month.
In the past, Air Canada has pointed to a shortage of air traffic controllers, bad weather and a network running at full tilt amid high demand, which can mean longer recovery times after a disruption.