The Saskatoon Blades are on the road for two weeks as they play seven Western Hockey League games in 11 nights, with six of those games in the United States.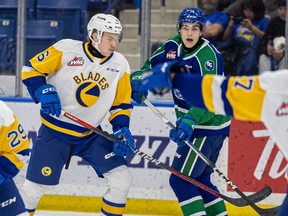 There's no better time for newly acquired defenceman Blake Herman to get to know his Saskatoon Blades teammates.
The Blades are on the road for two weeks as they play seven Western Hockey League games in 11 nights, with six of those games in the United States.
You are reading: Bussin' Blades: 7 games in 11 nights, including 6 games in the United States
For the Blades, it's the first trip south of the border since 2019 and the COVID-19 pandemic.
Herman — who made his debut with the Blades over the weekend in a 4-1 win over his hometown Swift Current Broncos on Saturday night — will get extra team-bonding immediately after coming over from the Regina Pats in a trade on Thursday.
"It's been awesome," said Herman, a 2005-born Swift Current native, after Saturday's victory. "I've only been here a couple of days, but you can already tell it's a really good group of guys and an awesome organization to be a part of.
"It's been good."
Herman has been reunited with fellow former Pat Easton Armstrong on the Blades, who'll open their U.S. swing Tuesday with a game against the Wenatchee Wild. On Wednesday, they'll meet the Everett Silvertips before moving on to games Friday against the Seattle Thunderbirds and Saturday against the Portland Winterhawks.
Readmore : Penn State vs. Michigan prediction: College football picks, odds
"I didn't see (the trade) coming at all, actually," admitted Herman, a 6-foot-3, 190-pound blueliner who got to see a lot of the Blades, from the other side, by playing against them in the WHL playoffs last spring.
"It'll be a good couple of weeks to get to know the guys."
Saskatoon sits atop the WHL's Eastern Conference standings with a 15-6-0-0 record thanks to a pair of wins at SaskTel Centre over the weekend.
"I thought these last two games at home, definitely up and down the lineup, we had a 120 minutes and we played really hard for a lot of those minutes," said Blades head coach Brennan Sonne.
"Pretty happy with the group up front in the last two games."
On Saturday, Anaheim Ducks prospect Egor Sidorov continued his torrid scoring pace with a pair of goals. Brandon Lisowsky and captain Trevor Wong, with an empty-netter, also scored for Saskatoon, which outshot Swift Current 41-27 and led 2-1 after two periods.
"It was awesome to get a win against the hometown team," said Herman.
Readmore : Alabama knocks off Georgia in SEC championship to send CFP into chaos scenario
Rookie Evan Gardner stopped 26 of 27 shots for his fourth win of the season before 4,782 fans at SaskTel Centre.
"Other than maybe a slowish start and maybe a bit of lull after their goal, I thought, pretty well overall, we played our game," said Sonne. "We created a lot and didn't give up a ton. When we did, Gards (Gardner) was there.
"That pull-away goal by Sido (Sidorov) was really important. That two-goal cushion was very important."
On Friday, the Blades avenged a loss to the Moose Jaw Warriors earlier in the week with a 3-2 win over the Warriors before 3,580 fans.
Jordan Keller, Misha Volotovskii and Ben Saunderson scored within a 2:26 span in the second period to lead Saskatoon, which outshot Moose Jaw 35-26.
Austin Elliott made 24 saves for the Blades, while his Warriors' counterpart Jackson Unger made 32.
After six games in the United States, Saskatoon will finish the road trip with a game Dec. 1 in Lethbridge against the Hurricanes before returning home. Next home game for the Blades is not until Dec. 8 when they play host to the Red Deer Rebels.