"It's truly incredible what this offence was able to do when everybody doubted us," Fajardo said. "Nobody expected us to do a thing."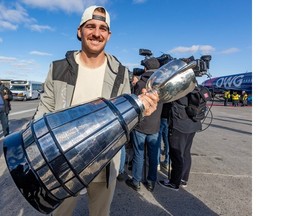 It was Cody Fajardo's career-defining moment and the Alouettes' starting quarterback didn't see it. But he'll undoubtedly relive the play for years to come.
"I remember I got hit and I didn't really get to see it cleanly," Fajardo told journalists in Hamilton Sunday night following the Als' come-from-behind 28-24 Grey Cup victory over the Winnipeg Blue Bombers at Tim Hortons Field. It marked the Als' eighth title in franchise history, but their first since 2010.
You are reading: Alouettes QB Cody Fajardo saved his best for last in Grey Cup win
"I just remember throwing it and the crowd roar," Fajardo continued. "I remember looking back to see how much time was left … there were 11 or 13 seconds left. Even then, I didn't want to celebrate too much. A lot can happen."
But Fajardo refused to gloat in his moment of glory, deflecting attention away from himself while lavishing praise on many of his teammates, including a much-maligned offensive line that relinquished only two sacks against Winnipeg.
"It's truly incredible what this offence was able to do when everybody doubted us," Fajardo said in the post-game interview room. "Nobody expected us to do a thing.
Readmore : Jean-Gabriel Pageau finally breaks long goalless drought in Islanders' loss
"All week it seemed everyone wanted to talk about our defence and special teams; rightfully so. That took pressure off us as an offence and we had nothing to lose. Nobody expected us to do anything. We just wanted an opportunity to win the game in the fourth quarter. I was thankful for that opportunity. You want the ball in your hands in the biggest stage and game when, obviously, you're down.
"Our team, when things got tough and adversity hit, we never pointed fingers. We never wavered one bit. That's what championship teams do. The belief on the sideline was always there the entire game. It felt so good to put an offensive stamp on a game; to show we can play football, too."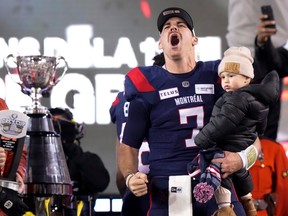 Although the Als finished second in the East Division (11-7), it was an inconsistent season, with the team going on lengthy winning and losing streaks. But with the team sitting at 6-7 following a fourth straight loss on Sept. 15, Montreal never lost another game. It won its final five, before defeating Hamilton and Toronto in the playoffs to reach the Grey Cup.
The Als' victories over the Argonauts, the defending champs, and Winnipeg, favoured by as much as 8.5 points, were their only two against teams with winning records.
"Let the prognosticators prognosticate," head coach Jason Maas told journalists in Hamilton. "We won eight straight games and were one of the hottest teams going in. There's something (to be said) about getting hot at the end. Not only that, we won 11 games. We weren't a terrible team. I knew what we had in our room.
Readmore : El Camino Real defeats Taft for City Section Open Division girls' volleyball title
"It was one of those memorable finishes you see quite often in championship games," added Maas, who was fired last season as Saskatchewan's offensive co-ordinator and won his first Cup as a head coach. "Whenever you can come back and win one at the end, those are meaningful games. We had people on the edge of their seats at the very end of the season and you're on the winning side. I don't think there's a more tremendous feeling."
The Als had a modest 19 first downs and ran only 44 offensive plays over 22 minutes and 16 seconds. But numerous players made the most of their opportunities.
Receiver Austin Mack caught six passes for 103 yards and scored once. The CFL rookie easily could have been named the outstanding player. Philpot caught six passes for 63 yards. Tyler Snead had four catches for 51, while Spieker had three for 62. Tailback William Stanback had nine carries for 68 yards before suffering a late injury to his left arm.
"You guys (in the media) wanted a good football game," Fajardo told reporters in Hamilton. "I don't know that it gets any better than that. Nobody expected us to be in the game. Nobody expected us to win the game, except for the one per cent in that locker room. That's what bonded us the entire year.
"I wouldn't want to be a quarterback for any other team."