The Gordie and Colleen Howe Foundation has donated $250,000 (U.S.) to the Kinsmen Club of Saskatoon for youth sports programs.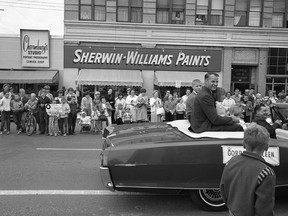 It was Nov. 10, 1963 when the legendary player known as Mr. Hockey scored that goal and Nov. 10, 2023 was the day the Howe Foundation chose to honour his legacy with a $250,000 US donation to the Kinsmen Club of Saskatoon to support boys and girls sports programs in the city.
"As we carry on the legendary Howe legacy, we are dedicated to making a real impact on kids' sports in Saskatoon," Sterling Fuchs, president of the Kinsmen Club of Saskatoon, said in a news release.
You are reading: Howe Foundation gifts $250,000 US to Saskatoon Kinsmen Club
Readmore : Dawson's request to change Expos cap on Hall plaque 'shot in the gut'
The donation will further the club's mission of "serving the community's greatest needs," and is "an investment in the future of the community's youth and a tribute to the enduring legacy of Gordie and Colleen Howe," the release said.
The Kinsmen Club of Saskatoon itself has a history of substantial contributions to local causes, including over $15 million in donations.
Readmore : Tottenham stars James Maddison and Micky van de Ven ruled until start of next year in huge double injury blow
The Howe Foundation aims to ensure that children have the opportunity to engage in sports from an early age and to support women in the business of sports.
"The Howe Foundation was created with the long-term goal of giving back and assisting those in need. My parents received help during their youth, which was pivotal in their lives. We are committed to continuing this mission and honouring their memories," said Mark Howe in the release, speaking on behalf of the foundation.
Howe, who was born in Floral, Sask. and spent his childhood in Saskatoon, scored an incredible 1,071 goals in the regular season and playoffs during a quarter-century of playing in the NHL and WHA. He was inducted into the NHL Hall of Fame in 1972. Over 26 seasons in the NHL and six more in the WHA, he won the Stanley Cup with the Detroit Red Wings four times, six Hart Trophies as the league's most valuable player and six Art Ross Trophies as the leading scorer. He died in 2016.