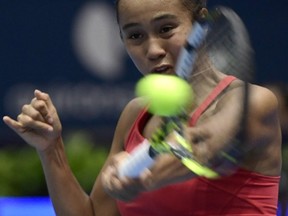 SEVILLE, Spain — Leylah Fernandez beat Italy's Jasmine Paolini 6-2, 6-3 on Sunday to clinch Canada's first-ever title at the Billie Jean King Cup Finals.
Marina Stakusic of Mississauga, Ont., defeated Martina Trevisan 7-5, 6-3 earlier in the day to give Canada the early lead in the best-of-three tie on the indoor hard court at Estadio la Cartuja.
You are reading: Fernandez clinches win as Canada tops Italy in Billie Jean King Cup Finals
"It feels amazing and I'm extremely proud that I was able to get to represent Canada on the biggest stage," Fernandez said in an on-court interview. "To do it in front of Billie Jean, it means the world to me, to us and hopefully we can keep going, celebrate tonight and just have fun."
Earlier in the week, Canada swept its way to a first-place finish in Group C with wins over host Spain and Poland. A 2-1 victory over Czechia followed in the semifinal with Fernandez and Ottawa's Gabriela Dabrowski clinching the tie with a 7-5, 7-6 (3) win in the doubles match.
At 5-0, Fernandez was a rock for Canada throughout the week. Stakusic — a virtual unknown entering the 12-team tournament _ emerged as a breakout performer and Dabrowski was an anchor in doubles play.
Readmore : Paulo Bento proud of UAE's winning start to World Cup qualifying but warns of Bahrain test
The roster, captained by Heidi el Tabakh, also included Montreal's Eugenie Bouchard and Vancouver's Rebecca Marino.
"We've had an incredible week and to finish it off by winning the Billie Jean King Cup is a dream come true," el Tabakh said.
Canada was missing 2019 U.S. Open champion Bianca Andreescu of Mississauga, Ont., who has been nursing a back injury.
Canada's previous best showing at this event came in 1988 when it reached the semifinals before falling to Czechoslovakia. Canada did not make it out of group play last year in Glasgow.
Switzerland advanced and went on to beat Australia in the 2022 final.
Readmore : New camera angle reveals definitively whether or not ball crossed the line for Newcastle's goal against Arsenal
Fernandez, the 2021 U.S. Open women's singles finalist from Laval, Que., broke Paolini's serve in the final game to seal the victory in one hour 39 minutes. The 18-year-old Stakusic, the world No. 258, wrapped up her win over the 43rd ranked Trevisan in 1:47 to improve to 3-1 on the week.
Canada became the 13th nation to win Billie Jean King Cup, a victory that was worth US$2.4 million in prize money. The team members also received Billie Blue jackets as champions of the annual women's team tennis championship.
Italy was looking for its fifth title and first since 2013.
Canada is the defending champion in the men's team event. Spain will also host the Final 8 stage of the Davis Cup Finals from Nov. 21-26 in Malaga.
Montreal's Felix Auger-Aliassime headlines a Canadian roster that includes Milos Raonic of Thornhill, Ont., Vasek Pospisil of Vernon, B.C., Montreal's Gabriel Diallo and Alexis Galarneau of Laval, Que.