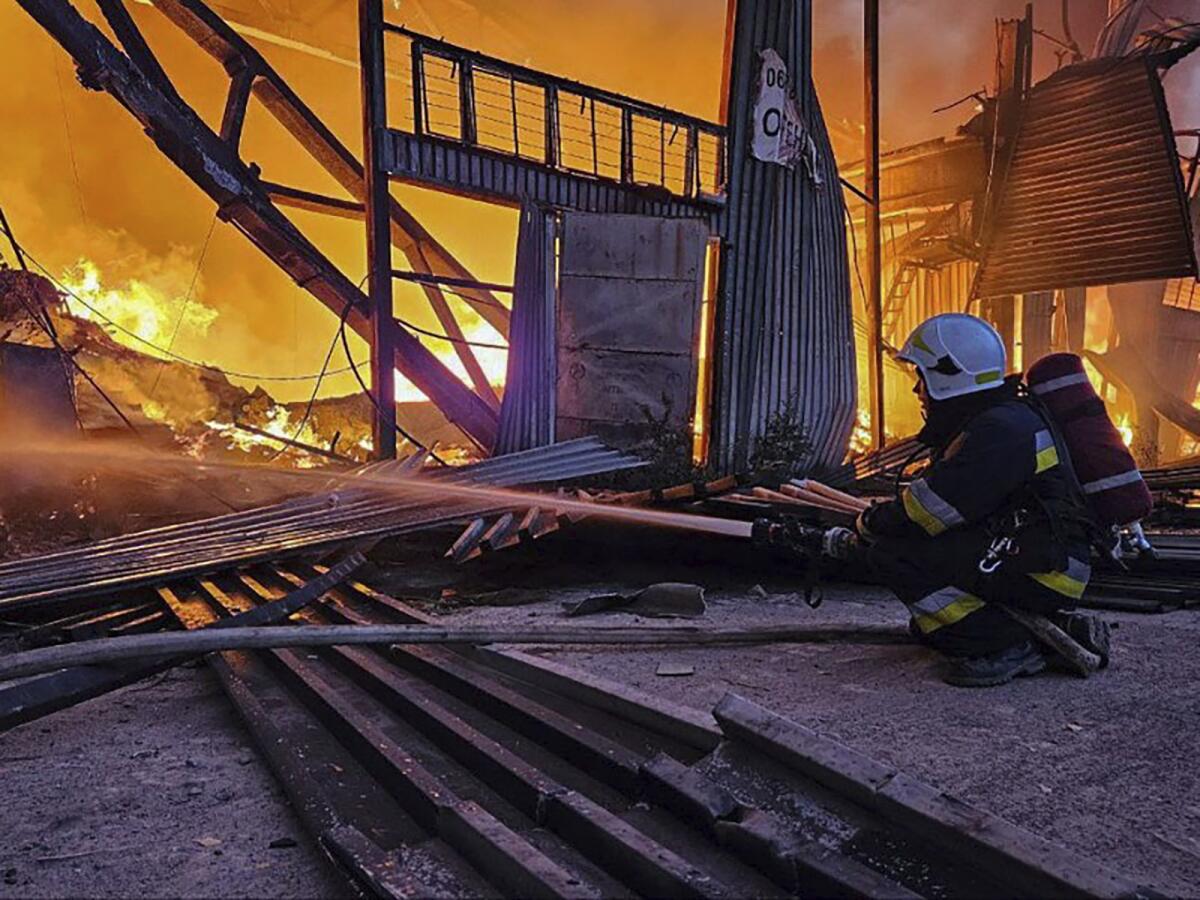 Russia launched a massive drone attack on the western Ukrainian city of Lviv early Tuesday, damaging a warehouse facility in a fiery blaze and killing one man, Ukrainian authorities said.
Ukraine intercepted most of the 30 Shahed drones overnight, the Ukrainian air force said. But drones that got through air-defense systems sparked an inferno at the industrial storage facility, which was not used for military purposes, Gov. Maksym Kozytsky said.
You are reading: Russian drone attack on Lviv in west Ukraine sparks inferno and kills 1
Readmore : Forced drug treatment not effective, Saskatoon police chief tells local podcast
An artillery strike in Kherson in the south struck a bus, killing a police sergeant and wounding two men, said Ihor Klymenko, Ukraine's minister of internal affairs. That strike also set a warehouse on fire.
The developments in the war front came as Ukrainian President Volodymyr Zelensky was in New York to address the United Nations General Assembly and Security Council before going to Washington on Thursday to meet with U.S. lawmakers and President Biden.
Zelensky has continued to drum up funding and support for new weapons as the counteroffensive Ukraine launched in June approaches what could be its final weeks before wet weather slows progress. Ukraine has made small advances but no major breakthroughs.
Readmore : Adele ready to be a mum again as she reveals baby plans with Rich Paul
Meanwhile, U.S. Defense Secretary Lloyd J. Austin III, in Germany for the meeting of the Ukraine Defense Contact Group, said the 31 M1 Abrams tanks promised by the U.S. will soon begin arriving in Ukraine, as was expected.
Norway said it would donate approximately 50 tracked cargo carriers to Ukraine.
In a statement Tuesday, Norwegian Defense Minister Bjorn Arild Gram said the carriers would help get supplies to areas without roads.