The accident happened only about 46 meters (150 feet) from shore, police and coast guard officials said at a news conference.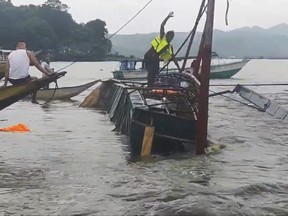 MANILA, Philippines (AP) — A small Philippine ferry turned upside down when passengers suddenly crowded to one side in panic as fierce winds pummeled the wooden vessel, and at least 26 people died, while 40 others were rescued, officials said Friday.
Coast guard and police said search and rescue efforts had resumed after a pause Thursday night. Officials said it remained unclear how many people were aboard the M/B Princess Aya, which capsized Thursday in Laguna de Bay in Rizal province east of Manila.
You are reading: Panic on Philippine ferry caused vessel to capsize, killing at least 26: Officials
When people rushed to one side of the vessel amid severe winds, the boat tilted and its outrigger broke, then the boat capsized shortly after leaving a wharf in the town of Binangonan for nearby Talim island, police and the coast guard said.
The accident happened only about 46 meters (150 feet) from shore, officials said at a news conference.
The Rizal provincial police said that they immediately launched a rescue operation with the help of the coast guard and other local authorities, but that at least 26 people drowned. Forty others were saved.
Readmore : Dogs abandoned outside Prince George SPCA had porcupine quills in their faces
"This is really a tragic event that has to be investigated," coast guard Rear Adm. Hostillo Arturo Cornelio told reporters.
The ferry was supposed to carry a maximum of 42 passengers and crewmembers but was overloaded, Cornelio said. He said investigators would also look into reports that the passengers were not wearing life vests as required by safety regulations.
Asked how many people were on the boat, Cornelio said it was unclear if there were more than the 66 who died or were save. "We assume there could be more," he said.
A video released by the coast guard showed rescuers on a local government boat pulling a body out of the lake. Another video showed local fishermen aboard vessels approaching the overturned boat.
Typhoon Doksuri blew away Thursday after battering the northern Philippines and whipping up seasonal monsoon rains in a large swath of the archipelago.
Readmore : French trial opens for man linked to brutal 2016 killings of police couple
The sinking Thursday brought the death toll from a week of stormy weather across the main island of Luzon to more than 30. At least nine people were reported killed earlier due to Doksuri's onslaught, mostly due to landslides, flooding and toppled trees and thousands were displaced, disaster response officials said.
Sea travel was suspended in many ports during Doksuri's onslaught from Tuesday to Wednesday, stranding thousands of passengers and cargo trucks. The no-sail orders were gradually lifted Thursday as weather improved in many areas.
Coast guard Rear Adm. Armand Balilo said the boat that capsized had set out after a no-sail order was lifted for Binangonan town.
At least four northern provinces remained under a cyclone wind alert Thursday, banning fishing boats and smaller vessels from venturing out to sea. Rains continued to swamp several towns and cities farther south, including in the densely populated region around Manila, which lies to the west of Rizal province.
Sea accidents are common in the Philippine archipelago because of frequent storms, badly maintained boats, overcrowding and weak enforcement of safety regulations. In December 1987, the ferry Dona Paz sank after colliding with a fuel tanker, killing more than 4,300 people in the world's worst peacetime maritime disaster.