'People are streaming these songs out of spite … It's to own the libs'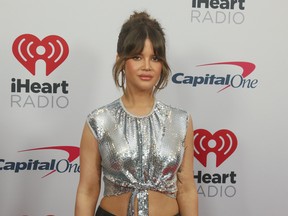 Grammy award-winning singer Maren Morris is walking away from country music blaming the "Trump years" for her exit.
Morris announced her departure from the music genre in an interview with the Los Angeles Times, in which she chastised the industry for failing to confront its role as a "weapon in culture wars."
You are reading: Maren Morris says she's quitting country music, blames 'Trump years'
"I thought I'd like to burn it to the ground and start over," she said of country music. "But it's burning itself down without my help."
For her latest two-track EP The Bridge, Morris, 33, switched to Columbia Records from the company's Nashville branch because she began to feel "distanced" from the politics that have started to infuse the music genre, which she referred to as "butt rock."
"After the Trump years, people's biases were on full display," Morris told the Times. "They were proud to be misogynistic and racist and homophobic and transphobic. All these things were being celebrated, and it was weirdly dovetailing with this hyper-masculine branch of country music."
Morris said she didn't start off thinking of herself as a "political artist."
Readmore : Gisele Bündchen goes pantsless at chic New York Fashion Week event
"I just wrote songs about real life through a lens of deep respect for my country heroes," she said. "But the further you get into the country music business, that's when you start to see the cracks. And once you see it, you can't un-see it. So you start doing everything you can with the little power you have to make things better."
Pointing to the popularity of Jason Aldean's recent hit song Try That in a Small Town, Morris said, "People are streaming these songs out of spite. It's not out of true joy or love of the music. It's to own the libs. And that's so not what music is intended for. Music is supposed to be the voice of the oppressed — the actual oppressed. And now it's being used as this really toxic weapon in culture wars."
Morris became embroiled in several high-profile dust ups with her fellow artists, leading conservative commentator Tucker Carlson to brand her as a "lunatic country music person" after she lashed out at Brittany Aldean for thanking her parents for not changing her gender "when I went through my tomboy phase."
Morris responded, "It's so easy to, like, not be a scumbag human? Sell your clip-ins and zip it, Insurrection Barbie."
Morris continued, "You know, I'm glad she didn't become a boy either because we really don't need another a**hole dude in the world. Sucks when Karens try to hide their homophobia/transphobia behind their 'protectiveness of the children.' Weren't they putting their kids in 'Biden-is-a-pedo' shirts on social media? Sounds like a real safe way to protect them from millions of eyes!"
She also refused to stand or applaud for Morgan Wallen at the American Country Music Awards following his N-word scandal.
Readmore : Dealer gets 10 years in prison in drug death of actor Michael K. Williams
But country music critic Kyle "Trigger" Coroneos thinks Morris' departure won't be noticed by many country fans.
On social media, Morris' comments were met with indifference.
"Does the average person care?" one person wrote. "We just wanna hear some music live on the weekends during our only night out. Like, keep politics out of music. I don't care."
"Was she even country to begin with?" another asked. "Reminded me of a female Sam Hunt … pop music on country radio."
"I always thought I'd have to do middle fingers in the air jumping out of an airplane, but I'm trying to mature here and realize I can just walk away from the parts of this that no longer make me happy."
X: @markhdaniell