The federal government will soon be presenting a bill that would enact many of these propositions fleshed out by Trudeau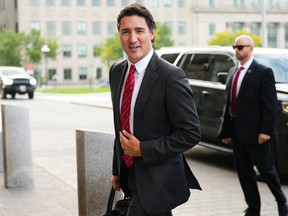 OTTAWA — Conservative Leader Pierre Poilievre accused the Liberals of panicking as they recycle election promises they had broken years ago now that they have "plummeted in the polls."
Poilievre made those comments during a face-to-face with Prime Minister Justin Trudeau during the first question period of the new fall parliamentary session on Monday, just as the Liberals said they would be focused on affordability with housing and groceries.
You are reading: Liberals to move ahead on GST rebate, Competition Act reform as Parliament returns
"After the summer that these Liberals have had, even the prime minister must admit that he's not worth the cost," said Poilievre, while accusing Trudeau of doubling the cost of rent and mortgage payments after promising to make housing more affordable when he was first elected in 2015.
"It took him eight years to cause this housing hell. How long will it take to fix it?"
"We're doing so without the Conservative plan to restrict access to abortion, to deny the impact of climate change, and put more assault weapons in our streets," he said, as MPs in the official opposition benches drowned out his attacks with their heckling.
The Liberals are far behind the Conservatives in the polls and have been presenting an array of measures similar to bills the Tories and the NDP were set to present this week on housing affordability and lowering grocery prices, respectively.
Poilievre said he would be introducing the Building Homes Not Bureaucracy Act, which would reward municipalities that get more housing built and remove the GST on the building of new homes "with rental prices below market value."
Government House leader Karina Gould announced on Monday that the federal government will soon be presenting its own bill that would eliminate the GST from the construction of new rental builds and reform the Competition Act, as mentioned during last week's Liberal caucus meeting.
Trudeau has first promised a GST rebate in the 2015 election that brought the Liberals to power, but it was ultimately dropped.
Readmore : Haley signs RNC pledge to back eventual GOP nominee
As for NDP Leader Jagmeet Singh, he said he would table a bill to tackle "corporate greed" from grocery giants by increasing fines for price-fixing and overcharging for specific food items, as well as strengthening merger laws and giving the Competition Bureau more powers.
But Singh's announcement was eclipsed by Finance Minister Chrystia Freeland and Industry Minister Francois-Philippe Champagne's Monday meeting with major Canadian grocers.
The country's biggest grocery chains are expected to come up with a plan to address the rising costs of groceries and stabilize food prices before Thanksgiving. The federal government has said it would rule nothing out, including tax measures, if the grocers fail to comply.
"Our government is going to do everything in our power to make sure prices stabilize. This meeting today is part of that effort," said Freeland ahead of the meeting.
In a press conference on Monday, Singh blasted the Liberals' "20 months of delay" in tackling high food prices during a press conference.
"This Liberal government has known for 20 months, for almost two years, that the rate of inflation for … groceries has outpaced general inflation," Singh said.
He did not ultimately reject the Liberal's future bill on the matter, saying "we just want to get this done." Singh was set to meet privately with Trudeau later Monday.
One thing that is clear is that the Liberals are not prepared to support Poilievre's housing bill, even though it also proposes a GST exemption for certain new builds.
Housing Minister Sean Fraser said the Conservatives' plan is "totally underwhelming" and accused the opposition of proposing a "half measure" with their GST exemption which would leave out "most homes that will be put up for middle class Canadians."
Readmore : Matt Gaetz to introduce resolution to censure judge in Trump case: 'Blatant political bias'
"They say it's about building homes and not bureaucracy, but they would have to insert a level of administrative capacity to identify which units get approved in order to identify who's going to benefit from the limited exemption of GST that they're providing," Fraser added.
Gould pushed back against suggestions that the Liberals are playing "catch up" on the housing file as Conservatives continue to dominate in the polls, and argued that the federal government has been seized with the issue as soon as they came into power, eight years ago.
She then turned her focus on depicting Poilievre as an unreasonable partner, suggesting that he should rally support for the government's GST rebate.
"Instead of having a temper tantrum over in the corner, he should say, 'Yeah, let's work together.' That's not something he was great at doing in government. He hasn't been very good at doing it in opposition," she said.
"But from our perspective, whether it's working with opposition parties, whether it's working with provinces and territories, municipalities or other partners, our job is to work together to deliver results for Canadians," she added.
Gould said the Liberals also intend to introduce a Canada Pharmacare Act this fall and plan to come to a final vote in the House of Commons before the holiday break.
With additional reporting from Anja Karadeglija
National Post
Our website is the place for the latest breaking news, exclusive scoops, longreads and provocative commentary. Please bookmark nationalpost.com and sign up for our newsletters here.