Nearly 3,000 Ford Explorer PHEVs and Lincoln Aviator PHEVs may risk short-circuiting high voltage batteries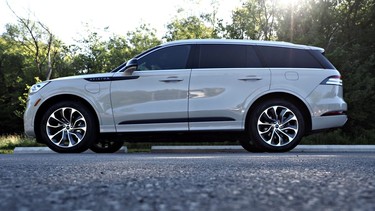 Ford is calling back 2,954 plug-in hybrid SUVs in the U.S. due to a potential battery issue that could result in power loss. At the time of writing, there is no information on Transport Canada about a similar recall in Canada, but we'll update this story if that information becomes available.
The recall includes 2,941 Lincoln Aviator PHEVs, from the model years 2020 to 2022, which were marketed in Canada and the U.S. as the Lincoln Aviator Grand Touring. The other impacted vehicle isn't one most North Americans are familiar with, the Ford Explorer PHEV, the only Explorer available in Europe. Just 13 of the Ford hybrids, also model years 2020 to 2022, were recalled in the U.S., likely from government agencies or Ford itself.
Issued by the National Highway Traffic Safety Administration, the recall is caused by a folded anode tab inside one of the cells of the high-voltage LG batteries, which can short circuit internally, causing a Malfunction Indicator Light to illuminate. Twelve-volt accessories like steering and braking will continue to work, but the battery could shut down, cutting power to the vehicle and increasing the risk of a crash. 
Owners will be notified by mail and instructed to take their vehicle to a Ford or Lincoln dealership to run a Battery Energy Control Module diagnostic test. If required, dealers will replace the high-voltage battery pack free of charge.
You are reading: Ford recalls Explorer and Lincoln Aviator PHEVs due to battery issue
This isn't the first Ford recall headline from this year. The American maker already recalled 125,000 SUVs and trucks earlier this summer due to fire risk, and more a couple months later. 
You can also check online at Transport Canada, using your VIN, to see if your vehicle is affected by a recall.