As the summer winds down, J.T. Miller has been on the golf course less and less. And that's his plan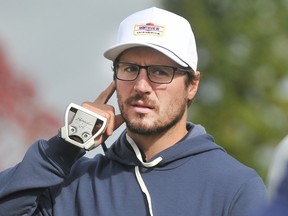 As summer advances and the hockey season gets closer, J.T. Miller says his golf game actually gets worse.
Miller is almost certainly the best golfer on the Vancouver Canucks — he did try to qualify last spring for this year's U.S. Open — because he looks to find time on the course as often as he can.
You are reading: Canucks: J.T. Miller's golf game is in the dumps and he's OK with that
"I've been playing like absolute crap. That always happens every year, when you train all summer and you get to August our bodies are moving so fast," he said with a smile. "My golf game is scattered. I stink right now but today is a special day for our organization. It's always fun to be here."
Miller is now 30 and his big eight-year contract has begun. Off-season preparation is more important than ever, he admits.
"I'm in my 30s now and I see the guys that play hockey and they're trying to be at a high level in their 30s and it's not a lot of guys. I've challenged myself to do that," he said.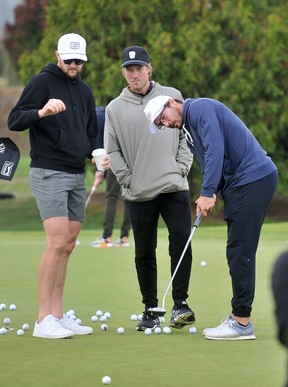 The way players prepare may have evolved in execution, but the principles have remained pretty constant for a long time. Players now have many options in hiring a personal strength coach, different from 45 years ago, when Stan Smyl was trying to break into the NHL: The first strength coach he ever encountered was at the 1977 Team Canada World Juniors' tryout camp.
Until the Canucks hired a team strength coach in 1988, Smyl's summer workouts were pretty much him just riffing off what he'd learned in 1977, plus skating with a power skating coach at what was then known as Burnaby 4-Rinks.
Readmore : Team USA shocked in FIBA World Cup semifinal, losing to Germany
Jyrki Lumme recalled his major junior team in Finland was so short on money that their off-season training used to be whatever they could find, a sort-of proto crossfit if you will.
"We would go to the beach and line up along the shoreline and throw rocks over our shoulders. It was a really good core workout," he said.
By the time he had turned pro in the mid-1980s, though, teams in Finland had become very serious about their off-season preparation.
"European teams have always gotten together in the summer to prepare," he noted. "It's different."
But the basic principles hold true to today: lots of skating, lots of work to improve explosiveness.
"I did a lot of plyometrics by the end of my playing days," Lumme said.
Miller noted how much attention he now pays to his nutrition, on top of setting a high pace for his off-season workouts.
"I'm not, say, not a baby anymore … I've been around awhile and you gotta cater to your body and everybody's different. I take way less time off than I used to. You can get away with it when you're young and just … show-up-and-go. I find the more work I put in in the summer and just not working out and lifting weights, it's on working your diet. There's a lot that makes you a pro," he said. "It's constantly evolving.
Readmore : Joe Root proposes 10pm finish time as rain threatens to decide the Ashes
"If I do my job in the summer and do my job when I get here, the dominoes will fall in the right way," he added.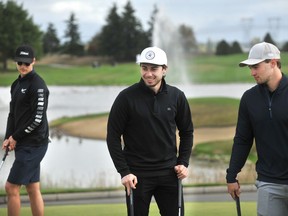 Team captain Quinn Hughes spoke in similar terms about the team's preparation this year. There was a big push to be in Vancouver early, so they could start skating together ahead of training camp. Most were in Vancouver by Labour Day.
That will hopefully stand the Canucks in good stead this year.
He called last year's start to the season "a nightmare."
"It's not just on the coaches to be ready and prepared. It's also on the players. I mean the last two camps I came out of camp injured and … first 10 to 12 games I couldn't do what I wanted to do," he admitted.
Miller admitted it will be nice to have a season start without a cloud of doubts hanging over it.
"There's a process that we've started since Rick's (coach Tocchet) been here with his staff and we've added some players. And the environment seems good. It seems fresh and I think that's more important. Last year was a very toxic environment to work in, with the outside noise and the coaching stuff and the player stuff. And it's just fresh and I'm glad we can move on," he said. "Just like the coach says: 'Worry about Day 1. We'll take it day-by-day.' I feel like we've come in prepared. I know that we're a prepared group.
" … We'd like to have had a little shorter summer but the guys are definitely itching to get at it," he said.
---