When the community evacuated, among the animals left behind was Three-Leg, a dog missing a limb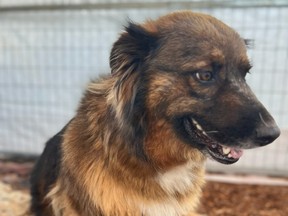 Among the animals left behind was Three-Leg, a three-legged dog beloved by the community.
According to rescue organization Meant 2 B Loved, officers had tried to bring her to safety but Three-Leg was scared and hid.
You are reading: B.C. Wildfires: Three-legged dog, three people rescued from wildfire near Cranbrook
"Without any food or water, and in the line of danger, there was a lot of fear for Three-Leg's fate," said the Kimberley-based group in a Facebook post.
Readmore : Two teens arrested after Edmonton police officer struck during traffic stop
But the officers persevered and on July 20, Const. Alistair Peers, Const. Monte Webb, and Const. Eldene Stanley of the RCMP's Indigenous Policing Services found Three-Leg hiding under the stairs of her home. 
She was taken to the vet and found to be in good health.
The RCMP said Three-Leg's story provided a "beacon of hope amidst the ongoing wildfire disaster."
Three-Leg wasn't the only creature that needed rescuing from the wildfire, which on Thursday has burned an area equivalent to 40 square kilometres and remains out of control.
Readmore : Senators won't 'insist' on user content exemption in online streaming bill
RCMP said on the same day the wildfire began and an evacuation order issued for the First Nations community, 10 people became trapped by advancing flames and smoke.
Two municipal workers and one civilian, as well as seven RCMP officers who were assisting the community with emergency evacuations, were cut off as the fire grew, overtaking Mission Wasa Low Road and cutting off the only exit, said RCMP.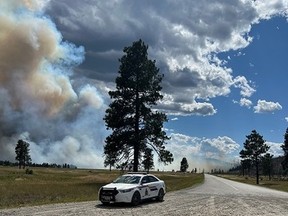 An emergency air rescue was requested, and a chopper from Bighorn Helicopters was able to rescue the civilian and municipal workers.
The RCMP officers were able to evacuate the area by themselves later after the wildfire temporarily stabilized.
---