Government's legal counsel argued that the applicants, if approved, have overlapping interests that risk "piling on" to the complexity of proceedings.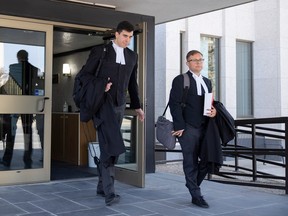 In the first day of hearings, Justice Michael Megaw and a courtroom dominated by lawyers heard arguments from groups seeking to be granted intervener, or friend of the court, standing in the case.
Both the Saskatchewan Ministry of Education and all school divisions are named in the originating application the injunction request seeking the court to forcibly block the policy's implementation pending a constitutionality review.
You are reading: Multiple groups request intervener status in legal action on Sask. pronoun policy
"My client will bring a robust, principled approach to the Charter-based civil liberties issue," said representative counsel Dan LeBlanc, on behalf of CCLA.
He said the non-profit intends to provide a "consistent perspective" that will differ fractionally from other entities' arguments, adding there is no interest to "turn this into a political arena."
LEAF, a national organization focused on litigation that impacts women and transgender and nonbinary people, is expressing interest on the basis of "equality rights" of the gender diverse, a cross-section of human rights issues that is an "emerging area" LEAF has been assisting courts in navigating for over three decades, said counsel.
This makes the group "uniquely placed to help this court understand where Section 15 fits and relates to Section 1" of the Charter.
The John Howard Society expressed interest in speaking to the "knock-on effects" of the policy, and the "concept of parental rights" under Section 7, in the context of the child protection system.
Readmore : Elton John's 'yellow palace' in Nice where he's recovering from shock fall
The provincial organization cited experience as a partner with the Saskatchewan Ministry of Social Services in aiding underage LGBTQ+ clients, some of whom counsel said are in need of housing due to being kicked out of their homes by a guardian in response to their identity.
The Gender Dysphoria Alliance (GDA) and the Alberta-based Parents for Choice in Education (PCE) also submitted a joint application.
The former said it could provide insight from medial professionals on the "real world experience of those suffering from gender dysphoria" and affirming care models, while the latter argued that "there is no party that represents parents" among the applications, defendants or potential interveners.
Mitch McAdam, lawyer representing the provincial government, argued against allowing CCLA, LEAF and the John Howard Society to intervene.
Government's position is that intervener status must be granted "sparingly" and the applicants' interests as presented overlap, risking "piling on" with repetitious testimony.
"Arguments that are just going to echo those made by somebody else is not appropriate," said McAdam.
"This is a trial court, not the Court of Appeal of Supreme Court of Canada. It's important to control the proceedings in a trial court and not let them get out of hand."
He also argued that national entities like CCLA and LEAF have not cleared the criteria test in establishing their relevant interest, nor has the John Howard Society.
Readmore : Dangerous heat wave will scorch NYC with hottest July in three years
"My submission is that it's not enough," he said.
Goldenberg asserted confidence that each would provide valuable views, but asked the justice to consider "limited capacity" for LEAF to prevent overlap.
A decision on the applications was expected Monday, ahead of lawyers returning for proceedings Tuesday to argue on the matter of the requested injunction order.
More intervener applications may also be coming. An Alberta lawyer appeared briefly to advise a potential client is interested in seeking intervener status, but has not yet filed.
Our Duty Canada, a grassroots group self-described as "a network for parents of children and adolescents captured by gender ideation," also attempted to seek intervener status via a without notice application, dismissed without prejudice by Megaw.
The group has no legal counsel, but representative Karen Lietzke present indicated interest in resubmitting another formal application.
Goldenberg asserted earlier in the hearing that should Our Duty Canada successfully reach consideration to be a friend of the court, UR Pride would be opposed.