What does the next year and beyond hold for a B.C. economy battered by a global slowdown? Watch our panel discussion, Conversations Live: The Economy = Your Money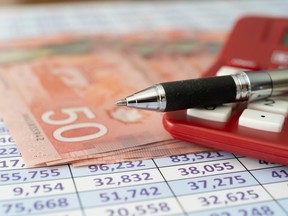 B.C. residents struggle on many fronts with rising interest rates and inflation. Groceries are more expensive. Property taxes and rents are higher. Homeowners with variable-interest mortgages are being hit hard.
In recent months, most of us have cut back discretionary spending on activities such as dining out, according to a recent survey by Mario Canseco of Research Co.
You are reading: Watch: Discussing B.C.'s (and your) financial future
What does the next year and beyond hold for a B.C. economy battered by a global slowdown?
Tonight, the Vancouver Sun in partnership with Conversations Live is bringing together an expert panel to offer insights on the uncertain economic road ahead for our province. I will be there along with Stuart McNish who will host the discussion – "The Economy = Your Money" – and take your questions.
Readmore : Surf's up: Winter waves in Pacific Ocean growing larger because of climate change, say researchers
Bookmark this story and come back at 7 p.m. to watch and submit your own questions.
The five panelists are:
• Katrine Conroy, B.C. Minister of Finance, and NDP MLA for Kootenay West since 2005.
• Jock Finlayson, former chief economist at the B.C. Business Council and now a senior advisor to the organization.
Readmore : Toppled light fixture injures woman at Canada Day event in Coquitlam
• Murray Leith, executive vice president and director of investment research at Odlum Brown.
• Krista Thompson, Retired CEO of Covenant House Vancouver, the largest B.C. non-profit serving youth at risk of homelessness.
• Walter Pela, regional managing partner at KPMG in Greater Vancouver.
---
---
Missed our other Conversations Live Events?
Watch: How B.C. became a hub of biotech innovation
Watch: A town hall with B.C. Premier David Eby
Watch: Climate smart agriculture and the future of food in B.C.
Watch: How do we solve B.C.'s rental housing crunch?
Watch: A town hall with B.C. Liberal leader Kevin Falcon
Watch: Food — can B.C. grow enough and keep it affordable?
Watch: Crime on B.C. streets — do you feel safe?
Watch: How bad is health care in B. C.?
Watch: The Affordable Housing Puzzle: Who Has the Answers?
---
---
#distro