The 66-year-old victim of Vieux-Limoilou was declared dead at the scene.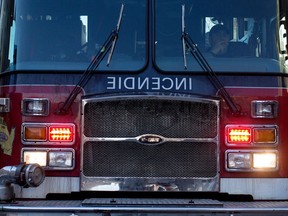 QUÉBEC — Quebec City police say a 66-year-old-man is dead after an apartment fire in the Vieux-Limoilou neighbourhood.
Police Sgt. David Poitras says firefighters were called to the two-storey building shortly before 12:30 p.m.
You are reading: Man dies after fire in dwelling without a smoke alarm
Readmore : Biden offers New York rabbi 'open door' to boost Sean Patrick Maloney's re-election bid: report
He says around 30 firefighters were able to bring the blaze under control in around 20 minutes and limit its spread to the other 11 apartments in the building.
One man was declared dead at the scene.
Readmore : Operations, safety processes found to be strong by international body ICAO: SpiceJet
Poitras says there was no smoke detector in the apartment where the man was found.
He says the fire commissioner, police and the coroner's office are investigating, but that arson is not suspected.