The city says it is taking a education first approach before resorting to fines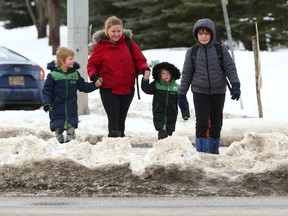 The City of Calgary has received more than 16,000 complaints about uncleared sidewalks this winter, but only a tiny fraction of those complaints resulted in a ticket, according to numbers released by the city.
So far this winter, between Nov. 1, 2022, and Feb. 27, the city has received 16,175 calls for service for snow and ice on sidewalks.
You are reading: Seven tickets issued for uncleared sidewalks so far this winter: City
Of those callers, 726 said they had fallen because of uncleared snow, and 238 of those reported being injured due to their fall.
The city issued 6,638 written warnings in that time, but only seven tickets were handed out.
Ward 11 Coun. Kourtney Penner said that number shows the city is serious when it says it takes an education-first approach to bylaw enforcement.
"You know the point of bylaw isn't necessarily just to ticket to make money," said Penner. "That's not why we put fines, fees and bylaws in place. It's really about education and compliance and giving people an opportunity to change behaviour."
Readmore : Man and woman die after crash between car and three pedestrians
Penner said things will never be perfect after a snowstorm, but she still encourages people to report snow-clearing problems to 311 as they see them.
After a snowstorm, many of the problems pedestrians face are at busy intersections.
Ashley Price said she and her two young children have had to scale a hard packed windrow that forms in the middle of Old Banff Coach Road, at its intersection with Patterson Hill S.W. and Coach Hill Road S.W.
Plows clearing four lanes of Old Banff Coach Road in either direction deposit a pile of snow that blocks the middle of the marked crosswalk and freezes solid after a few days.
"There's no way to push a stroller across, or a walker or wheelchair," said Price. "There's absolutely no way."
It's a controlled crossing, with pedestrian-activated lights. Price said sometimes impatient drivers begin moving again when they've only made it as far as the median.
Readmore : Afroman locked in legal battle with sheriff's office after raid
"The cars start driving beside you. So it's kind of scary because, if we fall backwards, we're gonna fall right into traffic," said Price.
She gave credit to city crews for getting the road cleared quickly. Price reported the problem to 311. Crews came promptly but cleared a different part of the intersection and missed the crosswalk. Price has since re-submitted her call to 311.
Ward 6 Coun. Richard Pootmans said after snowfalls, there is an organized hierarchy that determines which roads and pathways get cleared first. He said everyone wants a section done sooner rather than later, but there's only so much that can be done given the city's snow-clearing budget.
"Are there going to be problems like this and major intersections and crosswalks? Yeah, there's always going to be one or two," said Pootmans. "And for that we ask the public to please call 311 and let us know as quickly as possible so we can fix it."
In an email, the city said it achieved its new 18-hour goal on Priority 1 routes after a major snowfall that ended at noon on Feb 23.
It didn't quite make its goal of clearing all Priority 2 routes in 36 hours due to a cold snap that saw temperatures plunge below -20 C.
"While much of the city was completed within this timeframe and crews made multiple passes on these routes during the event, the extreme cold temperatures impacted ability to fully clear to bare pavement in some areas but lanes were in reasonable winter driving conditions with material applied," read a statement from the city.