"If there is ever a time in our lives where acceptance, understanding, unity, and a little bit of rainbow love is needed for our children, it is now," Saskatoon Pride said.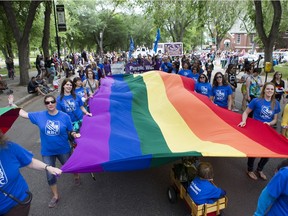 Last week, GSCS superintendent of education Tom Hickey sent an email to several Saskatoon Catholic school principals in which he advised them to "speak personally" to teachers and parent chaperones taking students to the festival, and "inform them that the Rainbow Tent should not be part of their visit" to the Nutrien Children's Festival this year. The tent is one of many activities offered at the annual festival, which this year runs June 1-4.
Saskatoon Pride in a statement Friday said the organization "would like to take this opportunity to encourage teachers and educators in the GSCS school system to think critically, and outside of the narrative" shared by administration.
You are reading: Saskatoon Pride urges GSCS teachers to think 'outside narrative' from administration
The entire description of the Rainbow Tent on the festival website at the time Hickey's email was sent read: "From Drag Queen Storytime to inclusive dress-up performances filled with colour and fun, this tent is full of rainbows."
On Friday afternoon, Greater Saskatoon Catholic Schools director of education Francois Rivard said the division will continue "to welcome members of the 2SLGBTQ+ community.
Readmore : Biography of the Abu Dhabi Police Band launched at Abu Dhabi Book Fair
"The development of the human person and interpersonal relationships are topics that must involve families," Rivard said in a statement.
"We honour parents and caregivers as first and primary educators of their children. Families who send their children to Catholic schools have a reasonable expectation that the education their children receive is consistent with Catholic teachings and is age-appropriate. Therefore, parents and caregivers are best positioned to decide on their children's participation in this programming within the festival.
"We recognize the internal email has been viewed by some as one of judgment, hate and exclusion. That was never the intent, nor does that represent our division's beliefs. We acknowledge the deep hurt, and for that, we apologize."
Saskatoon Pride officials said they extend their support to local teachers should they "have any questions moving forward. Saskatoon Pride stands against injustices, and we will continue to uplift and fight for the voices of the 2SLGBTQ+ community members and beyond. It is our hope that the GSCS administration will take our words of wisdom into consideration to include and accept all gender- and sexually-diverse people.
Readmore : Meghan Markle Sends Strong Message In Wake of Charles' Coronation: I Couldn't Care Less About the Royals!
"We believe that people are worth fighting for, and we believe that children are worth standing up for."
The Rainbow Tent, Saskatoon Pride said, "is a welcoming and accepting safe space for children, parents, educators, volunteers and friends. We hope that educators within the GSCS will be able to share acceptance and unity with their students while attending the festival. If there is ever a time in our lives where acceptance, understanding, unity, and a little bit of rainbow love is needed for our children, it is now."
The Children's Festival reiterated its commitment to the Rainbow Tent and inclusive activities.
"We believe that every child should feel heard, loved, accepted and supported and we work hard to provide performances and activities that support this belief," organizers said in a statement this week.
Saskatoon Pride officials said they have "trust and have confidence in the Nutrien Children's Festival programming, staff, volunteers, and organizers, given their long history of devotion to and caring for the childhood wonder of creativity and fun."