"We mainly gave away our water," Environment Minister Benoit Charette says, calling $3 million a year in total royalties "unjustifiable."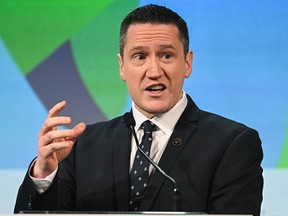 QUEBEC — Quebec's environment minister, Benoit Charette, is greatly increasing how much companies pay the government to use the province's water.
For companies that use water without storing it, the race will increases from $2.50 to $35 per million litres. For the others, the rate will go from $70 to $150 per million litres. Companies that bottle water will have to pay $500 per million litres of water.
You are reading: Quebec to increase commercial water royalties 900% in 2024
In 2021, for 800 billion litres of water used by businesses, the government pocketed $3 million. With the increase in royalties, this amount will increase to $30 million per year, according to the minister's estimates. "We are talking about a 900 per cent increase," he said.
The royalty rate will be indexed at three per cent per year. "And we reserve the right to review the base pricing at each five-year cycle," Charette said.
Readmore : Nevada Democrats oust incumbent, elect 'unity' candidate as party chair
Currently, only companies that use at least 75,000 litres of water per day have to pay fees. This threshold will be lowered to 50,000 litres. Mr. Charette estimates that this change will affect less than 100 Quebec companies.
"We are by far those who put the highest price in North America on water royalties," he said.
These new measures will come into force on Jan. 1, 2024.
Charette acknowledged that companies that use a lot of water won't be happy with the change.
"I don't know of any companies that are happy to be charged higher tariffs, it's in the nature of any business," he said. "But I will remind you that the current $3 million was simply unjustifiable. … We mainly gave away our water."
Readmore : Russia is using drones to target Ukrainian electricity and erode morale
But Charette said the objective is not to make money with this regulatory change, on the contrary. "It would almost be good news if we made less money with royalties than the $30 million that is expected, because that will mean that there is a significant change in behaviour that has been made," he said.
Charette also wants to ban the sale and distribution of plastic bottles filled with water from municipal sources. Spring water bottles would not be affected. He said 2 billion small plastic water bottles are sold in Quebec each year. "It is not these 2 billion that would be withdrawn overnight, because in some cases it is spring water," he said.
The increase in water charges will be made by regulation, in parallel with the adoption of a bill, tabled Thursday, which will create the Fonds bleu (blue fund). Its objective: to finance water protection measures, and in particular for the prevention and control of floods as well as the conservation of aquatic ecosystems.
In the last provincial budget, $500 million was earmarked for this fund. During the election campaign, Premier François Legault promised $650 million, and Charette said the $500 million will be increased over the next few budgets. "We are firm on the commitment that was made of $650 million," he added.
The fund will notably be financed by water royalties.