"This is going to be a time for us all to pull together, to be safe, and to make it through as we always do," Prime Minister Justin Trudeau said from a street covered in fallen trees in Montreal.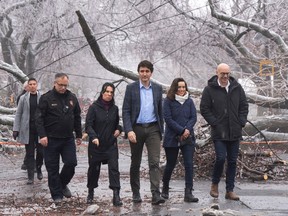 Politicians are pleading for caution and patience from Quebecers as Hydro-Québec crews work to reconnect customers in the aftermath of Wednesday's ice storm.
Standing on des Écores Street in Villeray—St-Michel—Parc-Extension, where several fallen trees were tangled with power lines, Trudeau said storms like the one on Wednesday are always "sad to see."
You are reading: Quebec ice storm: Trudeau, Legault and Plante visit Montreal streets
"This is going to be a time for us all to pull together, to be safe, and to make it through as we always do," he said, adding that the federal government would help the province and municipalities as necessary. "The most important thing is to see, yet again, what happens in times of difficulty, neighbours helping neighbours. If someone's got power and the other doesn't, we see them helping out."
Nearly as many customers were affected by Wednesday's storm as during the 1998 ice storm — which plunged the province into darkness for several weeks in the dead of winter — but current outages are expected to be fixed much more quickly.
"Compared to 1998 this is not the same situation, we don't have any major transmission lines that are affected, it's mostly local distribution lines," said Montreal fire chief Richard Liebmann, who spoke alongside Trudeau and Plante.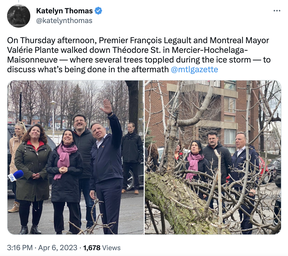 About 70-80 per cent of the population should be reconnected by 11:59 p.m. on Friday, Legault said, speaking from Hydro-Québec's operations centre in Montreal alongside company executives.
Readmore : Quavo performs emotional Grammys tribute to nephew Takeoff after death aged 28
"It's always the same thing, the last 20-25 per cent, very often, it's many many problems for few people, so we'll have to keep on working on Sunday, maybe on Monday to make sure that everybody (has power)," he said.
Asked whether he intends to bury power lines in anticipation of future storms — the frequency of which will only increase as a result of climate change — Legault said it would cost $100 billion to do so.
"We have to be realistic," he said. "In some areas, yes, but at the same time, we have to be realistic. That doesn't mean there aren't other ways, also, to protect ourselves. … How can we protect the wires? … Maybe putting a wire above a wire to receive the branch."
Plante announced warming centres would be opening across the island in anticipation for Friday's temperature drop while crews continue working to clear streets, prioritizing main arteries first, then local streets, then parks.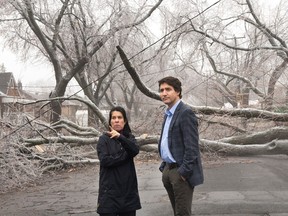 "In some cases we must wait for Hydro-Québec because we have to reconnect before doing a cleanup," she said, standing with Trudeau on des Écores, where pieces of ice continuously crashed to the ground from a tree behind them. "It's going to take a while before we clean up all the parks."
Plante later visited Théodore Street in Mercier-Hochelaga-Maisonneuve with Legault, another hard-hit street in Montreal. The pair discussed next steps and briefly spoke to neighbours who stood on their porches and balconies.
Readmore : As Supreme Court justice faces complaint, bill would change handling of allegations
"Do you have power?" Plante asked a man who'd been looking down at the group of people walking up his street.
"Yes," he said.
"Did you lose it?" Legault asked.
The man replied no and Plante and Legault rejoiced, joking about how Plante herself is among Montrealers without power.
Both politicians called on Quebecers to remain vigilant in the aftermath of the storm, warning that fallen wires, trees and ice can be hazardous, as demonstrated by the fact that a Montérégie man died after trying to clear branches.
"Be careful, especially when there's some electricity around or trees around," Legault said. "Be careful, everybody. Be patient."