"We are also outraged that this decision is made in the middle of the month of Ramadan," the groups say in a joint statement.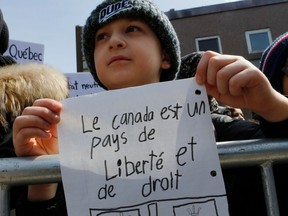 In a joint statement issued Thursday evening, representatives from several mosques with the Table de Concertation des Organismes Musulmans expressed their indignation at the decision.
The authors include representatives from the Islamic Cultural Centre of Quebec, the Islamic Association of Rimouski, the Islamic Cultural Association of Estrie, the Association of Muslims of Greater Lévis, Mac-Québec, the Association socioculturelle islamique Louperivoise and BelAgir-Québec.
You are reading: Muslim leaders outraged after Quebec bans prayer rooms in schools
The PQ MNA for Matane-Matapédia, Pascal Bérubé, said that a third school, in Vaudreuil, was doing the same.
Readmore : What is the Doomsday Clock and how close is it to midnight?
Muslim leaders said they were "shocked and surprised by the allegations" of young people praying in schools. They describe the students as "people who are clean in their minds and devoted to their studies and above all far from the delinquency that we know."
"We are also outraged that the minister is attacking the young people, who are our future for all of us," they said.
"We say to the minister that you are not offering us the path of dialogue, but you are pushing us to assert the right recognized by the Canadian and Quebec charters of rights and freedoms, to fight against this decision."
Readmore : Opinion: Saskatoon's current arena generates big economic spinoff
They said it would have been wise of Drainville to meet with Muslim leaders to explore solutions "without disturbing either the young people or the institutions of the education sector."
They conclude by emphasizing that they are "willing to work with the authorities so that solutions are found without making waves or animosity."
On Wednesday, at the urging of the PQ, the members of the National Assembly unanimously adopted a motion specifying that "the establishment of places of prayer, regardless of confession, in the premises of a public school is against the principle of secularism."