Opinion: A recreational cannabis market does not and will not meet the need of people with chronic pain who rely on cannabis for pain management.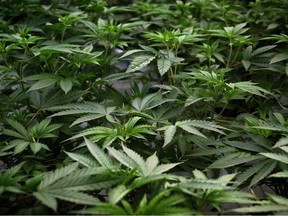 Many have pointed to the role of chronic pain in fuelling this drug poisoning crisis.
However, chronic pain alone is not to blame for the drug poisoning crisis.
You are reading: Marilou Gagnon: Closure of cannabis dispensaries and clubs amid drug poisoning crisis a mistake
Our policies, systems, and practices have created conditions in which people who experience chronic pain are dying.
Unfortunately, B.C. has not learned this lesson.
Readmore : Navy sends warship through Taiwan Strait after Chinese exercise around Taiwan
Despite cannabis being a safe and effective pain medicine that experts say could prevent drug poisoning deaths, the province has been actively working to close long-standing community-level access points, such as cannabis dispensaries and clubs (e.g. cannabis compassion clubs and cannabis buyers clubs).
Leading to cannabis legalization, the B.C. government had an opportunity to develop a regulatory regime that would preserve these storefront community-level access points and uphold compassionate access to cannabis for people experiencing chronic pain.
Instead, it decided to dedicate resources to eliminating dispensaries and clubs, leaving thousands of people who relied on cannabis for pain management without access.
I could hear the emotion in their voices as they talked about the positive impact of cannabis on their health and quality of life, their fear of losing access if the club closes, and the barriers they face in accessing cannabis through the recreational market — a market that was never intended for them and cannot meet their pain management needs (e.g., dosage and products) nor provide affordable options.
Readmore : 'It's devastating:' Ford government slammed for doubling size of Mississauga development
Concretely, closing dispensaries and clubs means that thousands of people who relied on cannabis for pain management for decades prior to legalization have lost or are at risk of losing access to an effective medicine. It also means that the province is actively cutting off access to a lower-risk alternative to the poisoned supply of opioids, one that has been shown to play a beneficial role in saving lives.
Instead of closing dispensaries and clubs, the province should follow the evidence produced by local researchers and listen to people who rely on these community-level access points to manage their pain. It is not too late to reverse course, starting with the Victoria Cannabis Buyers Club.
Preserving access to cannabis — a safe and effective medicine for chronic pain — should be the priority as British Columbians face a primary care crisis, long delays in accessing pain management, a drug poisoning crisis that is killing seven people every day, and a recreational cannabis market that does not and will not meet the need of people with chronic pain.
Marilou Gagnon is a professor at the School of Nursing, Faculty of Human and Social Development at the University of Victoria and scientist at the Canadian Institute for Substance Use Research.
---