The vehicle was heading east on Côte-St-Luc when the driver appeared to lose control near Grand Blvd.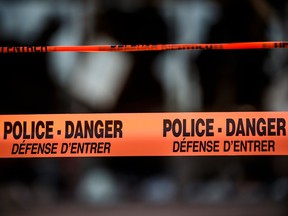 A car crashed a couple of metres from a bus shelter in Notre-Dame-de-Grâce on Friday afternoon, injuring four people, Montreal police said.
The collision occurred at around 1:40 p.m. on Côte-St-Luc Rd., near Grand Blvd. The driver and three passengers, all males, were seriously injured, said Constable Jean Drouin of the Service de police de la ville de Montréal (SPVM).
You are reading: Four injured as car crashes next to bus shelter in N.D.G.
Readmore : 'HE WANTED TO SEE WHAT MY ORGASMS WERE LIKE': Jane Fonda accuses director of unwanted proposition before intimate scene
"The four people who were in the car were transported to hospital by Urgences Santé," Drouin said. "We're still waiting (for an update) on their health condition at this time. No pedestrians were involved in this event."
A spokesperson for the Société de transport de Montréal confirmed that no commuters were injured.
The car was heading east on Côte-St-Luc when the driver appeared to lose control. The vehicle bumped over the sidewalk and came to a stop next to a tree and some bushes, a couple of metres behind the bus shelter. Skid marks could be seen on the road turning toward the corner.
Local resident Kathryn Sébastien and a friend were on their way for an ice cream at the Baskin Robbins across the street when they saw that the accident scene had been cordoned off in police tape.
Readmore : 'RHONJ' recap: Teresa warns Luis 'cameras are on' during phone call about Melissa, Joe
"The ambulances were already on the scene," she recalled. "They hadn't removed the driver yet. So they began the process of removing him."
Côte-des-Neiges—Notre-Dame-de-Grâce borough mayor Gracia Kasoki Katahwa tweeted that "my thoughts are with the four people who were transported to hospital following this terrible incident on Côte-St-Lc Rd."
Police accident-reconstruction experts were on the scene taking pictures of the black Infiniti and combing for clues to determine the exact cause of the accident.