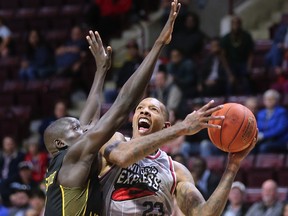 The Windsor Express answered the challenge.
Facing elimination, the third-seeded Express refused to fold and rode a roller coaster of emotions to the finish for a 110-102 win over the top-seeded London Lightning on Thursday at the WFCU Centre.
You are reading: Express answer challenge to force NBL of Canada final to the limit against Lightning
"(Thursday) we had a meeting with our team and we wanted the guys that could go out and go to war," Express head coach Bill Jones said. "They went out there and started the game with that mentality. They had a slight bump, but when it counted they came out there in the fourth quarter, when it for us to play (Friday), and they made it happen."
With Thursday's win, the Express will force a fifth and deciding game in the best-of-five NBL of Canada final against the defending champion Lightning.
"I thought that they thought maybe we were done," Express forward Justin Moss said. "That we were going to give up, but no, we're fighting for our lives.
"We feel like we're a better team. We gave ourselves a fighting chance to play (Friday) for all the marbles."
The Express looked as though they would run away with the game early with London hitting just one-of-14 shots to start the game and the Express building an 18-2 lead.
Readmore : Stu Cowan: Former Canadien Chris Nilan teams up with Liam Foundation
"Our defence, in the beginning, was crucial," Moss said. "We gave ourselves enough cushion to push the tempo and play our game."
But the Lighting countered and took their first lead of the game less than five minutes into the second quarter.
"We're our own enemy," Lightning guard Jermaine Haley said. "We give away wins, teams don't beat us and that's what happened (Thursday)."
The six-foot-seven Haley was a big reason London was able to get back into the game. His size allowed him defend Windsor's big players while creating mismatches on offence as he finished with 41 points and 10 rebounds.
"The shame is Jermaine Haley put together an absolute masterpiece and it was wasted," London head coach Doug Plumb said.
Every time the Lightning would get back into the game, the Express would find an offensive spurt to retake the lead. The six-foot-seven Moss had his best game of the series with 22 points and 12 rebounds with eight coming on the offensive glass.
"I don't feel any of their bigs can box me out or guard me unless they hold me and the refs don't call it," Moss said.
Readmore : Gervonta Davis given communitry service and home detention but avoids jail time for 2020 hit-and-run
Not only did Windsor hold a 51-44 edge in rebounds overall, the Express picked up 20 rebounds on the offensive end.
"We gave up 20 offensive rebounds," Haley said. "You give a team that many more possessions, you're not giving yourself a chance to win."
Ja'Myrin Jackson finished with 23 points for the Express. Latin Davis and Tanner Stuckman each added 18 points for Windsor while Billy White added 10 points and 10 rebounds while play all 48 minutes along with Davis.
"We won up there and the way our mentality is, no fear, we have nothing to lose," said Jones, whose team beat Sudbury in Game 5 on the road to get to the final. "No one expected us to be in the final. No one expected us to be in a Game 5. So, we can just go out and play. They've got all the pressure on them. They understand we're playing for all the marbles."
twitter.com/winstarparker
Check out our sports section for the latest news and analysis. Care for a wager? Head to our sports betting section for news and odds.