Opinion: Instead of increased medical spending, reallocating money from it to housing, poverty reduction and education might make us all healthier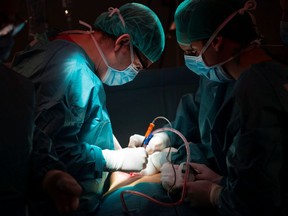 Canadians have among the highest life expectancy in the world even though it dipped slightly in 2020 due to the pandemic and, for British Columbian men, has been dropping due to the continuing epidemic of illicit drug overdoses.
That's slim consolation to the millions of Canadians who have no family doctor, whose wait times for surgeries, cancer treatments and other procedures fall far outside the guidelines, or to those who have waited unconscionably long hours in emergency rooms.
You are reading: Daphne Bramham: Healthy communities require more than medical care
The point is that Canada has done a lot of things right. But despite what the premiers, territorial leaders and others might suggest, maintaining a healthy population requires more than just pouring more money into medical care.
Counterintuitively, there is evidence suggesting that Canadians' health might improve if less were spent on hospitals, doctors and drugs and more invested in addressing the root causes of ill health.
Health Canada has long acknowledged that, genetics aside, health is determined by a range of social, economic and behavioural factors. Among those are: poverty, homelessness, childhood trauma, gender, ethnicity, education, and what kind of work we do.
"Passively waiting for disease to occur and then trying to cope with it through the health-care delivery system is simply not an option," it said. "We must address all of the factors that influence health and, through a population health approach, overcome inequities and foster well-being and productivity."
"In the 1970s, provincial governments consistently spent more on social services and education than they did on medical care," says Paul Kershaw, an alliance member and professor at the University of B.C.'s school of population health. "Now, the opposite is true."
The most dramatic change occurred in Quebec. In the mid-1970s, spending on education and social supports was 53 per cent higher than spending on medical care. By 2019, it was 22 per cent less.
Readmore : L.A. moves to rein in catalytic converter theft, but some question the need for a new law
Alberta's turnaround was also substantial, from 36 per cent more on social supports to 26 per cent less within four decades, while in British Columbia, spending on social supports went from 22 per cent higher to 28 per cent lower than medical spending.
Looking at a 30-year period ending in 2011, the researchers concluded that spending even one cent more on social supports for every dollar spent on health care resulted in a 0.1-per-cent decrease in "potentially avoidable mortality."
Their conclusion is that rebalancing is possible with "no effect on the over-all government budget."
Better health for the same price? Here's the rub: Now is not then.
Demographics have shifted in the past 50 years. Now, one in five Canadians is 65 or older. Many are frail and require complex medical care.
Now, there are also fewer taxpayers. In the 1970s, there were close to seven workers for every retiree. Soon, there will be fewer than three.
When there were seven times as many workers as retirees, Kershaw says there was enough money not only for medicare, but for those other essentials that determine health outcomes such as poverty reduction, affordable housing and food.
That balanced approach to creating healthy communities helped those 1970s taxpayers become the longest living and wealthiest generation in Canadian history.
Now, with fewer taxpayers, where is the money going to come from since the health budget already eats up 40 per cent of provincial governments' spending? The only choices are increased taxes or from other government programs.
Readmore : Mortgage stress test, bank's new chief and price peak: The week's top 7 stories
Kershaw has long made the unpopular recommendation to tax the equity windfall that Canadian homeowners have made as housing prices have soared.
His other suggestion is that governments stop increasing the amount of money going to physicians and surgeons. Kershaw was particularly critical of the B.C. government's recent decision to add $118 million to the health budget as a way of encouraging doctors to go into family practice instead of more lucrative specialties.
If pay inequity within the profession is the problem, Kershaw questioned why the government didn't close the gap by reducing the amount paid to other specialists and redistributing that to the family physicians.
For better and worse, medicare is a Canadian shibboleth. It's made politicians leery of slowing the money flow even as many have been loath to raise taxes.
It's why for decades they have beggared other programs key to healthy communities to the point that many are now becoming destabilized.
Younger Canadians (including doctors) are already staggering under the weight of unaffordable housing alone. Now, it's been made worse by inflation, which, in addition to driving up the price of everything, has resulted in many companies making staff cuts.
The best-educated and trained are fleeing to places where they can live more comfortably — places where wages and costs are more closely aligned.
For those without that option, the alarming jump in demand for mental health services for children, youth and young adults suggests all of this is literally making many of them sick.
Solving this is a tightrope walk that pits generation against generation. And, so far, few politicians have been brave enough to even take a tentative first step.