Arsenic, dissolved heavy metals and hydrocarbons began leaking in May of 2022 from the operation, affecting nearby muskeg and tributaries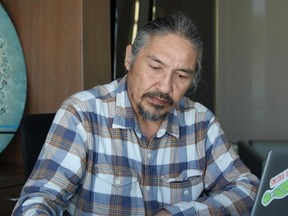 Alberta's environment minister says she is monitoring efforts to clean up a wastewater leak at Imperial Oil's Kearl oilsands site 10 months after toxic chemicals first began seeping into area soil following two spills from tailings ponds.
Sonya Savage and Premier Danielle Smith were briefed Thursday and Friday, an environment ministry spokesperson told Postmedia, on the remediation work underway at the site located about 70 kilometres north of Fort McMurray.
You are reading: Alberta monitoring clean-up efforts after May 2022 wastewater leak at Imperial Oil's Kearl oilsands project
A second spill of 5.3 million litres of wastewater was released from a tailings pond on Feb. 6.
Alberta Energy and Alberta Environment were briefed the following day by the Alberta Energy Regulator (AER), the arm's-length regulatory body investigating the spill, according to the ministry spokesperson.
"The Government of Alberta is standing by to assist the Athabasca Chipewyan First Nation (ACFN) and other communities in any way necessary should it be required, and we look forward to the results of the AER investigation," states a media statement from Savage that was sent Friday.
On Thursday, ACFN Chief Allan Adam said his community, which is downstream from Kearl, was not told about the seepage until the AER issued an environmental protection order (EPO) after the Feb. 6 spill.
He called the failure to notify nearby communities an example of "environmental racism," and said he had lost faith in the company and AER.
"Because we are a small community and small First Nation living up north, I guess we're not considered to be … humans? Is that why they didn't tell us about the danger and seepage and everything?"
A spokesperson for the AER pointed to the agency's statement issued Thursday and said the company had nothing further to add.
New Democrat MLA Rod Loyola called the situation "absolutely unacceptable."
Readmore : Commons public safety committee calls for annual national-security reports
"Danielle Smith and (energy minister) Peter Guthrie have to answer for this," he said Saturday. "They need to know when they knew this information and who's accountable for it."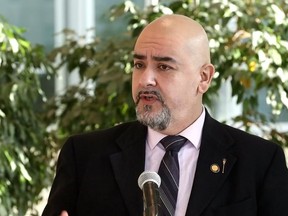 Earlier Friday, federal Environment Minister Steven Guilbeault issued his own statement saying he was "deeply concerned" after hearing news of the leak.
"We need to see a clear remediation plan from the company and to better understand the apparent failures of communication for the notification of this spill," it reads.
Guilbeault added that the community deserved an explanation from the company.
"Rebuilding a relationship based on trust will take a concerted effort, as well as transparency, collaboration and industry investment."
Savage said Guilbeault was offered a chance to be briefed by the province Friday, but declined before releasing his statement. Guilbault's office did not confirm that on Saturday.
Adam said representatives of the ACFN and Imperial Oil had met several times regarding unrelated matters while the seepage was occurring, but the oil company said nothing.
"Each meeting was an opportunity where they could have come clean, but they chose to hide the facts from us, over and over again."
The ACFN has warned community members not to eat any meat or plants harvested downstream from Kearl since May 2022. Hunters and trappers are also being told to stay away from the area.
Jamie Long, Imperial's vice-president of oilsands mining, said in a statement Thursday that the company "did not meet the expectations of the community" and is seeking to improve communication.
"It was always our intent to share our findings when we had more definitively determined the cause and planned actions," said Long.
Readmore : Video shows man who slashed NYC straphanger, tried to sit on his girlfriend: cops
Imperial has added extra monitoring and pumping wells to control the seepage. Trees and topsoil in the area have been stripped. More water catchment areas will be built.
The AER insisted Thursday that there has been no evidence of harm to wildlife and there are no dens in the area.
It says Imperial Oil has been compliant with the conditions of the EPO and the investigation into the cause of the leak is ongoing.
On Friday, the Northwest Territories' environment minister said Alberta didn't live up to the terms of a 2015 agreement it has with the territory to inform it when such a sizable leak occurs.
Shane Thompson told The Canadian Press that the Mackenzie Basin Bilateral Water Management agreement dictates Alberta has a legal obligation to inform N.W.T. about threats to its shared watershed.
"The protocols will ensure that the party within whose jurisdiction the emergency originates will, without delay, notify the other partner," the agreement states.
Thompson said Alberta didn't live up to its end of the deal.
"The bilateral agreement says Alberta is supposed to advise us with any ecological changes that happen, and they didn't do that," Thompson said.
He said he met several times with his Alberta counterpart, Savage, after the leak was first reported and before the AER issued its environmental protection order.
"At no point in time did that conversation come up."
— With files from Vincent McDermott and The Canadian Press