Advocates say Alberta's budget fails survivors of sexual assault and domestic abuse and will exacerbate homelessness and addiction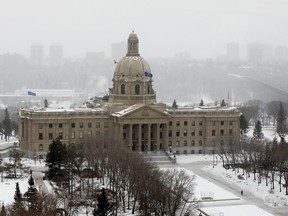 Advocates say Alberta's 2023 budget fails survivors of sexual assault and domestic abuse, leaving a gap in supports that will exacerbate homelessness and addiction across the province.
Released Tuesday, UCP Premier Danielle Smith's first budget projects a $2.4 billion surplus even with nearly $70 billion in spending.
You are reading: Advocates say Alberta Budget 2023 snubs survivors of sexual assault, domestic abuse
Mary Jane James, CEO of the Sexual Assault Centre of Edmonton (SACE), told Postmedia Friday there is a crisis in demand for the core services they provide, with waitlists of between 13 and 15 months, and more than 90 counselling intakes in a month.
"If you'd read the research on what causes homelessness and poverty and mental health and addiction — it's unhealed childhood trauma," said James, noting if that's ignored, other public services will continue to be overloaded.
"Pay it now, or pay it later, but you're going to pay it," said James.
Deb Tomlinson, CEO of The Association of Alberta Sexual Assault Services (AASAS), said long wait times to get help can discourage survivors of sexual violence, especially children, to stay silent, which can eventually lead to substance abuse, mental illness, unemployment and homelessness.
Readmore : Dubai surgeon stranded in Sudan treats civilians for gunshot wounds
"With Budget 2023, that's who this government has turned it's back on — survivors," said Tomlinson.
Prior to the budget, AASAS had asked for an additional $14 million annually for 15 sexual assault centres across the province to meet demand.
The government offered an extra $4.2 million for one year, but Tomlinson said the strings attached to that funding made it logistically impossible to accept. James said they tried in vain to get the government to come back to the table.
Hunter Baril, press secretary to Seniors, Community and Social Services Minister Jeremy Nixon, said in a statement to Postmedia the government was disappointed that money isn't being used to help those in need of supports.
"Alberta's government is deeply committed to ensuring that those looking for support are able to find it," he said, pointing to more than $1 billion provincewide in the budget for affordable housing capital grants, support for housing providers and rent assistance.
Tomlinson emphasized that survivors should not hesitate to reach out for help.
Readmore : Ant-Man and the Wasp: Quantumania director Peyton Reed excited for hero to step out of 'margins' and into Avengers status spotlight
"The reason why we're seeing this increased demand is because our culture is shifting, and survivors are feeling like they can come forward, that it's safe to do that, which is good news for all of us … but we need to be there for them when they come forward."
Her comments come after the Alberta Council of Women's Shelters (ACWS) also said their requests for additional funding were ignored in the budget, even as rates of violence and the number and complexity of caseloads increase.
According to Tuesday's budget, operating funding for women's shelters will go from to $55.1 million from $51.3 million in 2022-23, an increase of $3.8 million or 7.4 per cent. Baril said the province is spending another $9.5 million on family violence prevention programs.
"Women's shelters continue to serve an essential purpose to women and families fleeing violence, which is why Alberta's government increased funding," said Baril.
Contrary to the ministry's comments, ACWS executive director Jan Reimer told Postmedia the $55 million is a return to previous years' funding levels, and last year the government used 2021-22 surplus dollars to cover 2022-23 shelter costs – meaning those costs weren't reflected in the previous year's total.
"None of our members received an increase in their provincial agreements, which were mailed out after the budget," Reimer said in an email.
Editor's note: This story was updated on Sunday, March 5, to include comment from Jan Reimer.