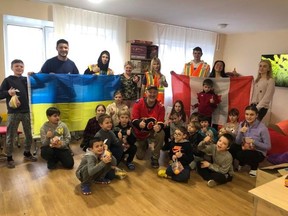 The seven-year-old boy made homeless by war and nearly killed by Russian shrapnel is the reason why Paul Hughes is marking a year in Ukraine with no plans of returning home.
"He's got a very bad shrapnel wound on his side and back — his older brother jumped on top of him to protect him and died," said Hughes, during a phone interview from Kharkiv.
You are reading: 'A million stories:' Calgarian aid worker reflects on surviving a year in Ukraine war zones
"He's traumatized but he's actually quite happy, he's a special kid — he gives us hugs."
The boy is one of many displaced children being helped by Hughes' group Helping Ukraine — Grassroots Support (H.U.G.S.) and its partner organizations in a mission that, for the Calgarian, has evolved and expanded dramatically since he first arrived in Ukraine in early March, 2022.
Then, Russia's full-scale invasion was only a week old. Hughes, a Calgary anti-poverty and urban farming activist, has seen the ebbs and flows of a savage war that has no end in sight.
"There's a lot of people losing limbs, lots of casualties and deaths, a huge number of displaced people — there's nothing good about it," said Hughes, 59.
"It's been a year of living dangerously — I have a million stories."
One of those stories was being detained for eight hours by Russian troops last summer while on a mission to rescue refugees from a combat zone in the country's south. After being released after sharing hockey talk with his captors, he managed to fulfil his task.
But most of those 52 weeks have been filled with grinding hard work that's added a clinic, vehicle repair, food projects and displaced persons' care to the initial task of delivering humanitarian aid to people impacted by the fighting.
"I'm starting to look at a longer-term impact … people need help, there's poverty everywhere," said Hughes.
In a year, his team has embarked on 196 formal aid sorties delivering food and medical supplies and bringing refugees out of danger.
Readmore : Anti-police Seattle pol claims cops ignored poop-tossing attacks on her home
They're basing that work out of Kharkiv, Ukraine's second-largest centre and the most fought-over city in the Second World War, changing hands between the Soviet and German armies four times.
Russian efforts to take the city last year were repelled but it remains under regular rocket attack, with Hughes noting his small, dorm-like apartment on Kharkiv's northeast edge is vulnerable.
"It's the closest in the city you can be to Russia — 25 km away," said Hughes, a Canadian military veteran. "I've been told a missile launched from Belgorod (Russia) would take 45 seconds to reach here."
But after 12 months of danger, any initial nervousness has evaporated, as it has for many Ukrainians, he said.
"There's a massive desensitization now, there are air raid sirens every day," said Hughes.
Missile strikes on the city, he said, often occur days in a row.
Halfway through his first year in Ukraine, his 20-year-old son Mac joined him to help deliver aid and has made three trips to the city of Kherson in the country's south, which was liberated from Russian troops last November.
But the city, like Kharkiv, remains under bombardment by Moscow's forces dug in on the opposite bank of the Dnipro River.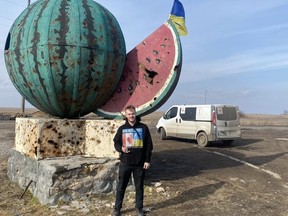 "(Artillery fire) was going right over us, once it landed one building over from us," said Mac Hughes.
"There's no silence day or night, sometimes you can hear heavy machine gun fire."
Despite enduring eight months of Russian occupation and now regular shelling, Hughes said the people of Kherson and those helping them remain determined to resist and help each other.
"Those are some of the most amazing volunteers I've ever worked with. They're doing the most they can with what they have," he said.
Readmore : President Sheikh Mohamed urges de-escalation in Sudan crisis
And the desperate need for that help, he said, is made apparent by the scenes of devastation he's witnessed while traversing the Kherson region, or in areas in the country's east where the heaviest fighting is taking place.
Some villages, he said, contain barely any undamaged homes and "there's quite a few neglected villages where even though it's been liberated, the elderly can't leave their houses and don't have family to help them."
With the war having entered its second year, much of the focus is on the besieged, shattered city of Bakhmut south of Kharkiv where Ukrainian forces are increasingly hard-pressed.
Both Hughes and his son have spent time in the area that's seen war for nearly nine years, with Paul reflecting sombrely on the price wrought on its defenders.
"It's a place I lived very close to and a couple of guys I know died here — it's pretty crazy," he said, adding he worries for civilians in the region who've chosen not to evacuate.
"It's a dangerous game."
But father and son say they continue to be inspired by Ukrainian resolve, with Paul recalling an elderly woman whose son had just been killed in a Russian artillery strike in the Donbas region.
"She was out running around serving tea to people who were clearing the debris from her home," he said.
The elder Hughes said he never thought he'd still be in Ukraine a year after he'd arrived but added he now doesn't think he could leave before the war is over.
"If there's a peace deal or Ukrainian victory, I'll stay around for the celebration," he said.
Mac Hughes said he only planned to stay for two months after giving up a Calgary construction job.
"Now, I don't really have much reason to come back home — even after the war, there'll be people staying behind to help rebuild," he said.