Amber Bracken was reporting from Wet'suwet'en territory on protests over the construction of a pipeline by Coastal GasLink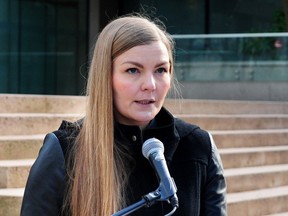 A photojournalist who is suing RCMP for alleged wrongful arrest and detention while she was covering a pipeline protest in northern B.C. says she felt as though she had been "kidnapped" during the incident.
Amber Bracken, who was working for the online newsmagazine The Narwhal at the time, made the comment during a news conference Monday outside the Vancouver Law Courts to announce that the lawsuit had been filed.
You are reading: 'I felt kidnapped,' says journalist suing RCMP for alleged wrongful arrest at northern B.C. pipeline protest
The Edmonton woman was taken into custody Nov. 19, 2021 while reporting from Wet'suwet'en territory on protests over the construction of a pipeline by Coastal GasLink to move natural gas from northeastern B.C. to a liquefied natural gas terminal being constructed in Kitimat.
In December 2018, the B.C. Supreme Court had issued an interim injunction to prevent people from interfering with the use of a service road to access construction sites.
However, some members of the Wet'suwet'en and their supporters did engage in protests and prevented the company from preparing for and engaging in pipeline construction activities.
Bracken, an award-winning journalist, had travelled from her home to the site several days prior to the arrest. Although things were initially quiet, tensions escalated and the service road was blockaded, prompting the RCMP to set up an "exclusion zone" aimed at determining who could proceed further up the road.
She says she was in a small building with a number of "land defenders" and had decided to remain there and take photos when officers using a police dog and axes and a chainsaw broke down the door of the house and arrested people inside.
Readmore : Wagh complaint: Uorfi Javed to join Mumbai Police inquiry today
"In that moment, I was both trembling and absolutely rooted in place," she told reporters outside court. "I was determined not to let this moment go unreported. Soon, they would put me in handcuffs and take my cameras from me. After that, they would take my rights."
Bracken says she was first taken to the Houston RCMP detachment and put in a jail cell, where she spent a cold night.
"I felt kidnapped. I'd never been arrested before, and it's the best word I can think of to describe being taken so abruptly from my life and from my work and in violation of my Charter rights.
"I kept expecting police would realize their mistake and let me go."
Bracken was moved to the Smithers RCMP detachment and then transported more than 300 kilometres in a police van to Prince George where she spent two more cold nights in jail before being released.
Several of her work colleagues, including The Narwhal's editor-in-chief Emma Gilchrist and executive editor Carol Linnitt, were by her side Monday.
They said Bracken took every reasonable step to ensure RCMP were aware of her presence that day and had identified herself to police before, during and after the arrest. They claim Bracken had not violated the injunction.
Readmore : Croatia beat Brazil on penalties to reach World Cup semifinals
"The arrest and detainment of Amber Bracken should never have happened," said Linnitt.
Although the court case is expected to cost hundreds of thousands of dollars, according to their lawyer Sean Hern, the media organization, which is seeking fundraising help, said it was worth it in order to have a conversation about police actions during such incidents.
"The truth is we would really rather not be here today," said Gilchrist. "As a small non-profit news organization, The Narwhal certainly did not want to have to bring a lengthy, expensive lawsuit against one of the most powerful organizations in the country."
Gilchrist added that ultimately they realized they had no other choice but to file suit.
"To not move forward with this case would be to turn our backs on what's right and to turn our backs on all the important stories that happen in remote places without the watchful eyes of journalists due to the chilling effect of arrests like these."
The suit seeks a declaration that Bracken's liberty rights and The Narwhal's press freedom rights were unjustifiably breached. It also seeks general, aggravated, special and punitive damages.
A spokesman for the RCMP said it would be inappropriate to comment as the case was before the courts.
---