Stops British challenger Anthony Yarde in eighth round in London in WBC, IBF and WBO unification bout.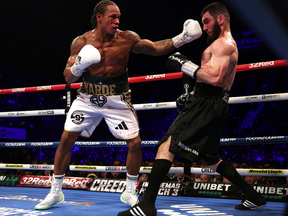 It was explosive and entertaining as expected. And some might suggest Anthony Yarde proved to be one of Artur Beterbiev's toughest opponents.
But in the end, the British challenger met the same fate as 18 others who preceded him.
You are reading: Montreal's Artur Beterbiev retains light-heavyweight titles
The 38-year-old Beterbiev, who displays no physical signs of aging, improved to 19-0, producing his 19th consecutive knockout in his eighth title fight.
Beterbiev remains boxing's only champion who has stopped each of his adversaries. And he's the sport's second-longest reigning champ after Errol Spence Jr., along with the second-oldest, after 40-year-old Gennadiy Golovkin.
Yarde, 31, was making his second challenge of a world title. And as was the case in August 2019, when then-WBO champ Sergey Kovalev stopped him in the 11th round, Yarde again was ultimately subdued. His record slipped to 23-3, Yarde now having lost three of his last eight bouts. He was the WBO's mandatory challenger.
"Every fight is different — different feelings and preparation," Beterbiev said. "And fighters are different. I can't say I did a very bad fight, but if I do it again, I want to do better."
Yarde was staggered from a right hand in the eighth round, then retreated several steps before being clubbed with an overhand right, toppling him to the canvas. Yarde, blood streaming from a cut below his right eye, was on all fours before finally rising as referee Steve Gray reached the count of nine. Beterbiev unleashed several more punches before Yarde's corner wisely ordered the stoppage, ensuring their pugilist didn't sustain additional serious damage.
Readmore : Aaron Rodgers 'surprised' by charges after Davante Adams shove
"Every boxer in this category can punch hard," Beterbiev said. "I hope one day I'll be a good boxer."
Incredibly, Yarde was ahead on two of the three judges' scorecards following seven rounds. Jun Bae Lim from South Korea had Yarde leading 68-65, while American Robin Taylor had it 67-66. Only France's Jerome Lades had Beterbiev slightly ahead, 67-66. The Montreal Gazette also scored it 67-66 for Beterbiev, who was en route to a 10-8 round, at least, had Yarde survived the eighth.
While Beterbiev never was in serious jeopardy, Yarde provided ample opposition. Indeed, Beterbiev sustained a cut to his left eyelid in the sixth round — the same round in which the Englishman was cut for the first time as a pro.
Yarde has speed and legitimate knockout power, having stopped 22 opponents. He moved and changed positions in the opening round, figuring the motion might confound Beterbiev. And Beterbiev, who often makes himself a square target, can be hit and has been knocked down twice in his career. He depends on timing and positioning.
Yarde scored with a double left hook and two uppercuts in the second round, but Beterbiev landed an overhand right and stiff jab. While Yarde started quickly in the third, Beterbiev landed a right to the body and scored with a late left.
The champ started finding his range in Round 4, a right hand shaking Yarde, too frequently trapped against the ropes. And Yarde clearly was growing fatigued, his mouth open, before getting tagged with a right.
Yarde lost his mouthpiece a second time early in the fifth and was warned by referee Gray. But he also displayed heart and refused to quit. With his fans chanting, he landed a big overhand right, but Beterbiev finished the round strong, Yarde again trapped in a corner.
Readmore : Pierre-Emerick Aubameyang missed Chelsea's FA Cup defeat to Manchester City due to back injury
Yarde jabbed well in the sixth, but Beterbiev continued his impeccable body work. Yarde appeared to catch his second wind in the seventh, landing a right hand to Beterbiev's chin. Yarde briefly had Beterbiev reeling in the explosive round before the champ recovered, went on the offensive and landed while Yarde was against the ropes. Nonetheless, Yarde scored with uppercuts and hooks throughout the bout.
Beterbiev landed 41 per cent of his total punches (136 of 334) compared with Yarde's 31 per cent (111 of 357), according to CompuBox.
"To be honest, I prepared for all the punches," Beterbiev said. "That's why I could come back. It's because we expected those punches."
Added his trainer, Marc Ramsay: "That was not a perfect fight, but Artur still found a way to win … on the road."
With three belts to his credit, the only thing left for Beterbiev to accomplish would be an undisputed championship match against WBA title-holder Dmitry Bivol, undefeated in 21 bouts. It would be a legacy fight, an additional title undoubtedly motivating Beterbiev.
"I think this job would be more present than another one," Beterbiev said. "I want Bivol. Right now, it's everything. In that fight, we'd have four belts (at stake). It's a really good fight, I think."
"Artur Beterbiev is a true master of his craft," Arum said. "I favour him over anyone in the division."
Check out our sports section for the latest news and analysis. Care for a wager? Head to our sports betting section for news and odds.