A reader believes after its big financial loss this year, SaskPower needs to tread carefully as it considers nuclear power for the future.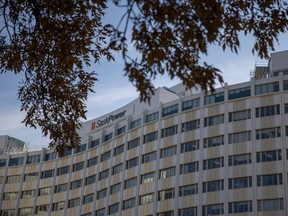 SaskPower, usually a profitable crown corporation, will post its biggest loss ever this year, $105 million. ("SaskPower projects hefty financial loss," Jan. 13)
Nonetheless it has plans to buy a small modular nuclear reactor ("SaskPower selects GE-Hitachi unit," June 27, 2022), No one knows how much these small reactors will cost because they have yet to be built, but current estimates are from $1.5 to $5 billion. And huge cost overruns are normal in the nuclear industry.
You are reading: Letter: SaskPower has energy options other than nuclear power
This will be a significant burden for taxpayers.
Is nuclear power — a complex, expensive and dangerous way to generate electricity — our best option? I commend SaskPower for its ambitious greenhouse gas emissions reduction target, and I appreciate the reasoning behind going nuclear, though I think it's flawed.
Readmore : Walmart manager opens fire on Virginia co-workers, killing 6 and himself
We need to cut emissions immediately, not a decade from now when new reactors come online. And uranium, mined, processed, and shipped exclusively as fuel for the nuclear industry, has created and will continue to create huge GHG emissions.
I also commend SaskPower's investment in wind and solar. These renewable energy sources are cheaper, safer, and quicker, and there are ways to store the power when it's calm and cloudy.
And, if it hasn't already, maybe SaskPower should consider addressing demand as well as supply. A vigorous campaign to promote using less electricity more efficiently, with various carrots like time-tiered billing and rebates, could reduce consumption or at least hold it steady.
If we use less, we don't have to generate as much.
Jan Norris, Saskatoon
Share your views
Readmore : Clean energy permitting reform needed for California to boost economy, protect climate and burn less coal
The StarPhoenix welcomes letters to the editor. Here's what you need to know about how to write one in a way that will increase the odds it will be published.
Letters to the Editor:
• Letters should be limited to 250 words and the shorter the letter is, the better chance it has at being published.
• Letters will be edited for length and clarity.
• Include your full name, address, phone number and home community so we can verify your identity. Only your name and community will be published. We do not publish anonymous letters or allow the use of pseudonyms.
• Include the text of the letter within the body of an email, not inside an attachment.
• Open letters addressed to someone other than the editor will not be accepted and letters should be original works, sent only to the StarPhoenix. (And let us know if you also sent it to our sister paper, the Regina Leader-Post.) Letters of provincial focus may also be published in the Leader-Post. Letters may also appear online prior to their publication in the print edition.
• To allow for a diverse group of voices, we will usually only publish one letter per month from a writer.
• We give priority to letters responding to or inspired by material published by the newspaper, so let us know if you are responding to specific content.
• Send letters to: 204 Fifth Ave. N., Saskatoon, Sask., S7K 2P1
Fax: 306-657-6437
Email: [email protected]
Some letter-writing tips:
• The best letters focus on one idea or situation and express a distinct opinion about it.
• Ensure your letter is clear, fact-based and current and try to add a new viewpoint to the discussion.
• Avoid gimmicks like all caps and the overuse of dashes, parentheses, unnecessary quotation marks and exclamation points. One exclamation point per letter is plenty!
• If you are including information or statistics that are not generally known or easily verifiable, let us know where you found them so we can confirm their authenticity (you can include a note at the bottom of the letter).
• While we welcome a wide variety of views, we will not share or promote misinformation or falsehoods.
The Saskatoon StarPhoenix has created an Afternoon Headlines newsletter that can be delivered daily to your inbox so you are up to date with the most vital news of the day. Click here to subscribe.
The Saskatoon StarPhoenix has created an Afternoon Headlines newsletter that can be delivered daily to your inbox so you are up to date with the most vital news of the day. Click here to subscribe.