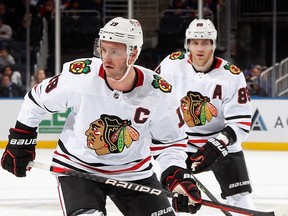 Both are 34. Both have three Stanley Cup rings. Both make $10.5 million. Both have no-movement clauses. Both are unrestricted free agents this summer.
And neither has foggiest clue how the whole trade deadline drama is going to play out — or if will even play out at all.
You are reading: Kane and Toews pondering uncertain futures with Chicago Blackhawks
Jonathan Toews and Patrick Kane, two of the biggest names on the NHL Contender Rental List, visited Rogers Place Saturday for perhaps the final time as Chicago Blackhawks teammates.
Or, perhaps not.
With the team in a rebuilding mode and long since out of the playoff hunt, conversations in Chicago heading into the March 3 deadline surround what to do with the two career Blackhawks, who came into the league together in 2007.
Trading them for high picks and quality prospects makes the most sense, since the re-tooling Hawks won't be winning for a while and this is a strong draft. It's the circle of life.
Where they go, and for what, is a source of discussion and debate in just about every playoff-bound city in the league.
Of course, if Kane and Toews decide they they love their current situations too much to leave — rumour has it Chicago is a pretty cool place to be a millionaire — and exercise their no-movement clauses, all of the speculation is for nothing.
With less than five weeks before final decisions need to be reached, the process remains in a holding pattern.
Readmore : Byron wins 2nd straight Cup race, beats Larson at Phoenix
"After the break I'm sure we'll probably figure something out," said Kane, taking his gear off after the morning skate. "I haven't really made up my mind either way.
"We'll see. I check in with my agent every now and then just to kind of see. I'm also making the decision of if I'm going to be going anywhere. Do I want to play the rest of the year here and then go to free agency and pick a team in the summer instead of moving twice?"
The only thing that's for sure about their situations is that nothing is for sure.
What veteran player with three rings wants to hang around for a rebuild? But who wants to pack up and leave his home of 16 years to be a depth centre somewhere, chasing something he has already has three of?
"You sit there and maybe think about what it would be like to play for another team, talk to guys about what it's like to be in other locker rooms, and sometimes there are reminders to appreciate what you have and what you maybe take for granted," said Toews.
"With this group, the organization and the training staff, everyone has been part of the Blackhawks family. It's been a privilege to play here, that's for sure."
The reassuring part for both of them is that they have the final say.
"It's not a bad situation when it's in your hands," said Kane, who adds that he is also receptive to what's best for the team. "We'll see what the organization wants, too. They've taken care of me enough to be here for 16 years. They've done right by me a lot of times, so you want to do right by them, too."
If there is a sentimental card to be played in this, it's the lure of being able to say you played your entire career in one place. But it's no surprise that there are two sides to that discussion, as well.
Readmore : Bossy linesman shows Maple Leafs' Michael Bunting the door
"Not many guys do it," said Kane. "I remember Mike Modano left to play in Detroit for a year (after 20 years in Dallas) and he said he kind of wished he'd finished up as a Star."
On the other hand, Duncan Keith came to Edmonton from the struggling Blackhawks, went three rounds deep in the playoffs and loved the experience.
"I talked to Duncs when he was up for Marian Hossa's jersey retirement (in November) and he said he really enjoyed his time here," said Kane. "Switching teams and playing for a different organization kind of refreshed him a little bit. Sometimes it's not the worst thing."
The lure of being a Blackhawk from start to finish is something that will weigh heavily in the Toews decision.
"If you're looking at Hockey DB, there is something cool about that, so we'll see," he grinned, also noting that Keith's adventure turned out well on all fronts.
"He, like myself, probably envisioned playing for the same team his whole career. He's had a pretty storied career, so I'm sure (leaving) didn't tarnish anything for him."
Being on a last-place team and at the centre of trade rumours is new territory for a couple of guys who were cornerstones of three Cups in six years, and who will one day have their jerseys retired in Chicago, but they understand the drill.
"It's just a new challenge, it's what's in front of you," said Toews, who hasn't made the playoffs in six years. "My focus has been here, on this room and this team. You can't wish you were somewhere else or somebody else or on another team. This is the challenge we have in front of us. It's our reality. You have to make the best of it and rise to the occasion."
E-mail: [email protected]
On Twitter: @Rob_Tychkowski