Subscriber Exclusive: The Canucks' shiny new prospect Aatu Raty makes his Abbotsford debut, plus much more!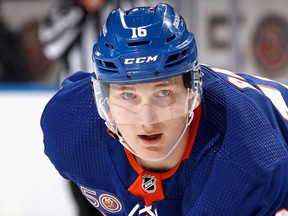 It's the latest edition of the weekly tracker, where we tally up the efforts of the Vancouver Canucks' highest-profile prospects:
---
Aatu Raty
Player development is never linear.
You are reading: Canucks prospects tracker: Raty debuts, Klimovich claims another
But you'd be hard-pressed to find a character arc like that of new Canucks prospect Aatu Raty.
From talk of being the next hockey prodigy in 2018 to dropping out of the first round of the 2021 NHL draft.
From a disastrous pre-draft season to getting his groove back and reasserting his place as a player to watch.
From being the New York Islanders' top prospect to being dealt during his first season of North American hockey.
If adversity builds character, then Raty has it in spades. What it won't build, however, is his game — something the 20-year-old is keen to keep working on with the Abbotsford Canucks.
"The biggest thing is my skating. I think it's improved this year but I still want it to get better," Raty said during a media availability session last week.
"It's such a fast league that you've gotta be able to move your feet."
Skating aside, the strides Raty made with Mikkelin Jukurit of Finland's top-flight SM-Liiga last season were enormous.
He went from playing 10 minutes a game with Karpat a season earlier to joining head coach Olli Jokinen's squad, where his ice time doubled, he played in every situation and built his confidence back up to notch 40 points (13G, 27A) in 41 games.
"It had a lot to do with opportunity," he said. "During the season I felt like … playing every opportunity in the game, I feel like I got better at my penalty killing, got better on the power play. Just like, getting more skilled, playing in those tight situations."
He then joined the AHL's Bridgeport Islanders to start this season, under the tutelage of longtime head coach Brent Thompson.
"The fact that Thompson is willing to say that — that he's extremely coachable — very, very smart, he thinks the game extremely well. Just a smart guy all around, and his work ethic."
Former Bridgeport teammate William Dufour told Williams that with Raty, "the skill is evident, right off the bat."
"The shot comes to mind right away. The hockey instinct, that's very obvious."
Raty played his first two games with Abbotsford this past week, where he slotted into the second line with Kyle Rau and Tristen Nielsen as his wingmen.
The first thing you notice with Raty is his poise with the puck and his ability to read the play. On his first shift in Friday's 3-2 win in San Jose, the 6-foot-2, 187-pound left-shot centre controlled the play along the boards, using his frame to keep the puck in the zone and his soft touch to distribute it accordingly.
He won some draws and lost some, skated on the penalty kill and played the bumper spot on the power play. Raty finished the game with a minus-1 rating and one shot on goal.
In Saturday's rematch against the Barracuda — another 3-2 win for the Canucks — Raty again came as advertised, holding his own physically in the slot, making plays with his back to the opposing goaltender and even providing the screen on the Canucks' first goal of the game.
Readmore : SUN SPORTS ROUNDTABLE: Is Connor Bedard the next hockey superstar?
Later in the second, the Oulo, Finland native set up Vincent Arseneau with a great pass in the slot.
Arseneau couldn't convert, but ended up scoring soon after with Raty off on a change.
Raty had a dangerous foray in the third, where he cut to the middle of the ice and wristed a low shot on net that was kicked out by the Barracuda goaltender.
He ended the night with a plus-1 rating and one shot on goal.
The knock on Raty is his skating, something the Canucks will work with him on. Ironically, it's the same critique that none other than Bo Horvat faced when drafted by Vancouver, and the former captain went on to turn a perceived weakness into one of his strengths. Like Horvat before him, Raty also projects to be a middle-six centre.
That includes rookie Linus Karlsson, who continues to score with consistency after netting his 15th of the season on Saturday.
Karlsson, 23, has 33 points in 45 games and is tied for fourth among all AHL rookies in points and goals.
Then there's Nils Hoglander, whose omission from the call-up list makes sense when you factor in he's two NHL games away from becoming waiver eligible.
Unlike Podkolzin, 21, whose all-around game is well developed, Hoglander, 22, needs to continue to work on his play without the puck.
Hoglander had a wonderful assist and the game-winning goal in Friday's win over the Barracuda.
Raty has 15 points (7G, 8A) and a plus-3 rating in 29 AHL games this season.
The AHL All-Star game is on Monday. Abbotsford defenceman Christian Wolanin — who leads all league D-men in points (50) — is the Canucks' lone entry.
Wolanin, 27, took part in the skills competition on Sunday.
Abbotsford is 26-15-2-2 and in fourth place in the 10-team Pacific Division. The Canucks next play on Friday night in the Fraser Valley against the Tuscon Roadrunners.
---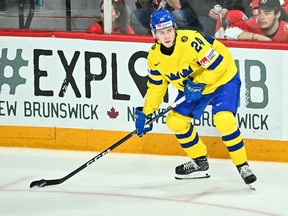 Jonathan Lekkerimaki
This is what progress looks like.
Two more effective outings this past week for Jonathan Lekkerimaki, whose game appears to have found some traction on Djurgardens' top line.
Readmore : 'Look at where we are': No. 10 UCLA opens Pac-12 play against untested USC
The highly-skilled 15th overall pick last summer had a strong showing in Wednesday's 3-2 shootout win over Mora IK, getting his shots through, handling the puck with confidence and holding down the left wall on the power play, where the 5-foot-11, 172-pound right-shot winger was unlucky to not register at least one assist.
Lekkerimaki was even rewarded with a shootout attempt by head coach Johan Garpenlov — and the Canucks prospect repaid the favour, scoring the winner on a forehand deke that completely fooled the Mora goalie.
Lekkerimaki, 18, finished the game with a goal, three shots on net and a plus-1 rating.
The Huddinge product followed it up on Saturday with a five shot effort against Sodertalje, but did not register a point in a 4-3 win.
Since a spin in the Swedish juniors a few weeks ago, Lekkerimaki has played seven HockeyAllsvenskan games, where he has two goals, two assists and 19 shots on net.
Lekkerimaki has three goals, six assists and a minus-4 rating in 29 games this season.
---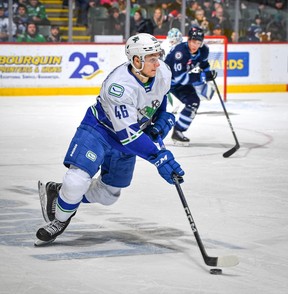 Danila Klimovich
Make it ten.
Danila Klimovich hit the double-digit mark in goals for the first time in his professional career, netting his 10th of the season in a 6-1 win for Abbotsford over San Diego on Wednesday.
The Klim Reaper claimed his goal midway through the second period, with the 2021 second-rounder blowing by a diving defender in the neutral zone before ripping a wrist shot short-side on a partial breakaway. Big winger Marc Gatcomb collected his first AHL point on the play.
Klimovich finished the game with a plus-1 rating and one shot on net.
Coach Jeremy Colliton recently praised the talented 6-foot-2, 205-pound right-shot winger for his emerging 200-foot game, and the message appears to be getting through.
Klimovich has been hounding defenders for the puck, closing in on them with speed and creating the odd turnover.
The 20-year-old may need to dial it back, however, as Klimovich took two minor penalties in the first period of Saturday's 3-2 win, hooking and high-sticking his way to the box. The Barracuda scored their opening goal on Klimovich's second minor penalty.
Klimovich finished the game with a minus-1 rating and one shot on net.
Klimovich has 21 points (10G, 11A) and a plus-9 rating in 40 games this season.
---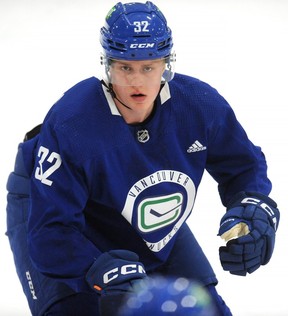 Elias Pettersson
Plus-minus isn't the greatest indicator of a defender's ability.
For Elias Pettersson, however, it tells us that the 18-year-old isn't in over his head playing in the top-flight Swedish Hockey League.
Pettersson played in three games this past week for Orebro, where he went a combined plus-4, had five shots on goal and averaged around 13 minutes of ice time per game.
The well-rounded 6-foot-3, 196-pound left-shot defender has been a consistent presence for Orebro since shining at the world junior tournament, where Pettersson played a ton of hockey and played well against the top of his class.
Pettersson has one goal, one assist and a plus-3 rating in 32 SHL games this season.
— with a file from Ben Kuzma