The number of criminal code charges laid for impaired driving has decreased for 3 years, but suspensions have gone up.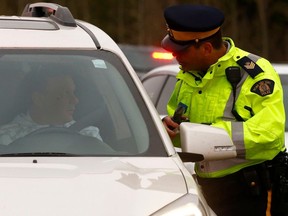 The laws have been amended by the federal government over the years with the goal of keeping Canadians safe from impaired driving, with more recent amendments broadening just what methods police could utilize to detect impairment. 
"Now, when (police) do a stop, they can also demand a sample of your breath for testing, which they couldn't before unless they had reasonable suspicion," said Lisa Smart, with Oykhman Criminal Defence in Regina.
You are reading: Stricter impaired driving laws likely detecting more offenders: lawyer
Previously, reasonable suspicion could be something like glassy eyes, the smell of alcohol on breath or a driver admitting to consuming a substance prior to driving.
Some of the changes to law included expansion of police powers, such as making it illegal to have a blood-alcohol level exceeding the legal limit of .08 for two hours after driving, allowing testing for THC in blood and the ability to demand a roadside breath sample without reasonable suspicion.
Readmore : Kentucky Supreme Court rules state school choice law unconstitutional
"Now, they don't need that and so a lot of cases previous to these laws were won on the basis that the police didn't have the grounds to make that … approved screening device demand in the first place," Smart explained. "If that's a breach, the case would get thrown out."
Tyler McMurchy, manager of media relations for SGI, described impaired driving enforcement in the province "as strong as it's ever been."
"This was the first time in more than 20 years that a province other than Saskatchewan recorded the highest rate," a July 2021 Statistics Canada report said.
According to SGI, there were 414 impaired driving offences reported to the Crown in December 2022. There were 4,674 offences recorded all year long, resulting in 3,023 Criminal Code charges and another 1,651 suspensions.
Readmore : Princess Kate's heartwarming gesture to mother of premature baby revealed
In 2021, there were 4,851 offences reported, with 3,579 of those resulting in Criminal Code charges and the rest suspensions. In 2020, there were 4,539 offences reported, with 3,756 charges laid and the remaining offences resulting in suspensions.
Overall, the number of criminal charges laid has declined each year, even if the total offences recorded each of those years have remained above the 4,500 mark.
The COVID-19 pandemic could also play a role, Smart said. The pandemic was a detriment to mental health for many people, resulting in choices being made that they otherwise would not have made.
"I've had a lot of clients in these last few years, previous to COVID, previous to having lost a job and financial troubles, dealing with isolation, they would never have imagined that they would've been a person charged with impaired driving," Smart said.
"COVID sort of presented this perfect storm where people were turning to substances a lot for coping, and I think that also led an increase in numbers of cases."