Jagmeet Singh was viewed more positively than either Trudeau or Poilievre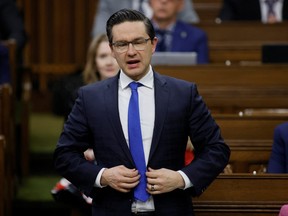 Poilievre is less popular than former top Tories Andrew Scheer, Erin O'Toole and Stephen Harper in the early days of their leadership.
"Prime Minister Justin Trudeau, meanwhile, enjoys a five-point boost in his approval compared to summer levels," the Angus Reid poll released Monday says. "An emerging gender divide is unmistakable: Poilievre's favourability is nearly twice as high among men, 44%, as women, 23%, while the inverse, though not as pronounced, is true of Trudeau, 35% among men, 50% among women."
You are reading: Pierre Poilievre's approval rating low for new Conservative leader, poll says
Trudeau's approval rating came in at 43%, up from 38% six months ago, with Poilievre is at 33%, the poll says.
Readmore : Kremlin accuses Ukrainian saboteurs of attack inside Russia
NDP Leader Jagmeet Singh was viewed more positively than either Trudeau or Poilievre with 47% of those polled having a favourable or very favourable impression of his leadership.
The polling found a significant portion of the voting public saw either Trudeau at 36% or Poilievre at 38% in a "very unfavourable" light.
Singh was the leader most likely to attract a more mild "unfavourable" opinion at 20% but one-quarter of those polled gave his leadership a "very unfavourable" rating.
Readmore : Former coach denies grooming teen player and then molesting him
The pollster also asked for the top issues in the country — 61% indicated the cost of living and inflation, 49% health care, 28% environment and climate change, 26% housing affordability, 21% the economy, 17% income inequality and poverty, 15% deficit and government spending, 15% taxes, 12% crime and public safety, and 11% ethics and corruption.
Several of the issues at the bottom of the priority list are often seen as Conservative Party priorities including taxes and crime.
Angus Reid Institute surveyed 5,030 Canadian adult members of their forum online, and for comparison purposes the results carry a 1% margin of error, 19 times out of 20.