East Van garage soul and R&B band releases second EP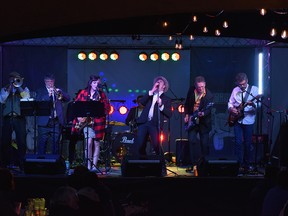 Reviews and recommendations are unbiased and products are independently selected. Postmedia may earn an affiliate commission from purchases made through links on this page.
The Vanrays Put It Out EP release
When: Feb. 11, 8 p.m.
You are reading: Now hear this: The Vanrays release second EP, Put It Out
Readmore : Jim Carrey wanted 'Dumb and Dumber 2' to be a horror movie
Where: The Fox Cabaret, 2321 Main St.
From the opening horn blasts of Lovin' Man, it's clear that the Vanrays are out to shake some action on its new EP, Put It Out.
Readmore : Aaron Carter's fiancée, Melanie Martin, wins full custody of their son, report says
The eight-piece band boasts a pedigree of bands from the Vancouver scene dating back to the 1980s, such as Family Plot, as well as others through the decades including The Beige, The Beladeans and Swank. This gives the group's rave-up R&B sound the right amount of swagger and precision to suit the giant vocals of lead singer Spencer McKinnon.
At 10 songs, the EP is more like a good ol' fashioned record and really nails the brief of making music for a killer party. Best of all, the group's real strength is playing live, so the show this Saturday should be a Main Street burner.