A reader thinks the methods and mentalities of the private sector are not suited to delivering our most vital public good, health care.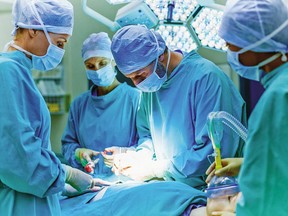 Public goods include health care, the environment, law enforcement, education, transportation, national defence, etc., while private goods pertain to everything else.
The great mistake is to think that the mentalities and methods of the private realm are suitable for managing our arguably most important public good, our health-care system.
You are reading: Letter: LEAN shows private health care already failed in Saskatchewan
It is easy to see the wreckage that ensues when governments adopt a private management model for fixing a public service. How much taxpayer money was spent on the LEAN initiative, for example, rather than investing in education and training for nurses and doctors right here at home?
Readmore : Why won't Vladimir Putin cut his losses in Ukraine?
We can't poach our way out of trouble, nor can we simply tie doctor compensation to enrolling unattached patients without investing in health-care infrastructure.
On the other hand, if wearing a mask to mitigate the ravages of a pandemic is an offence against personal freedom, then any sense of the public good is already lost.
Wayne Turner, Saskatoon
The StarPhoenix welcomes letters to the editor. Here's what you need to know about how to write one in a way that will increase the odds it will be published.
Letters to the Editor:
Readmore : Princess Marie's future role revealed as move to US with Prince Joachim confirmed
• Letters should be limited to 250 words and the shorter the letter is, the better chance it has at being published.
• Letters will be edited for length and clarity.
• Include your full name, address, phone number and home community so we can verify your identity. Only your name and community will be published. We do not publish anonymous letters or allow the use of pseudonyms.
• Include the text of the letter within the body of an email, not inside an attachment.
• Open letters addressed to someone other than the editor will not be accepted and letters should be original works, sent only to the StarPhoenix. (And let us know if you also sent it to our sister paper, the Regina Leader-Post.) Letters of provincial focus may also be published in the Leader-Post. Letters may also appear online prior to their publication in the print edition.
• To allow for a diverse group of voices, we will usually only publish one letter per month from a writer.
• We give priority to letters responding to or inspired by material published by the newspaper, so let us know if you are responding to specific content.
• Send letters to: 204 Fifth Ave. N., Saskatoon, Sask., S7K 2P1
Fax: 306-657-6437
Email: [email protected]
Some letter-writing tips:
• The best letters focus on one idea or situation and express a distinct opinion about it.
• Ensure your letter is clear, fact-based and current and try to add a new viewpoint to the discussion.
• Avoid gimmicks like all caps and the overuse of dashes, parentheses, unnecessary quotation marks and exclamation points. One exclamation point per letter is plenty!
• If you are including information or statistics that are not generally known or easily verifiable, let us know where you found them so we can confirm their authenticity (you can include a note at the bottom of the letter).
• While we welcome a wide variety of views, we will not share or promote misinformation or falsehoods.
The Saskatoon StarPhoenix Afternoon Headlines newsletter can be delivered daily to your inbox so you are up to date with the most vital news of the day. Click here to subscribe.
The Saskatoon StarPhoenix Afternoon Headlines newsletter can be delivered daily to your inbox so you are up to date with the most vital news of the day. Click here to subscribe.