We've come unmoored from this place, with its abandoned desks and empty offices. Silence, silence everywhere.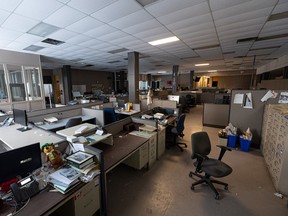 I'm sitting, as I write this, in the Saskatoon StarPhoenix newsroom on a weekday afternoon, at the desk I've occupied for a quarter century.
I'm alone on the vast second floor. The only noise, in this whole big space, is the hum of some distant machine, and one man tapping on his keyboard.
You are reading: 'It's quiet in here now': Saying goodbye to the historic, treasure-packed StarPhoenix newsroom
I can do whatever I want in here — yell, scream, dance, paint the walls, fall asleep. Nobody will know, because nobody else is here.
Journalists emptied the place out in March of 2020, stayed hunkered in our homes as the pandemic spread, and never came back.
One day, the newsroom was busy. The next morning, we got an email telling us to stay home for a few weeks. And now the old building is up for sale, and Saskatoon's daily newspaper will soon have no fixed address.
We've come unmoored from this place, with its abandoned desks and empty offices. Silence, silence everywhere.
Technology, honed by COVID-19 isolation, makes it possible to work from field and home on a permanent basis. So we're leaving this spot at 204-Fifth Ave. N. — a reluctant farewell, say those of us lucky enough to have worked in and loved this place and its people.
We made ourselves very comfortable here, after this shiny edifice opened in 1967. Staffers were proud of their new building, which cost $3.5 million to construct. Its large reception area and winding staircase to the second-floor newsroom was a welcome note to the city, and the place teemed with life and curiosity.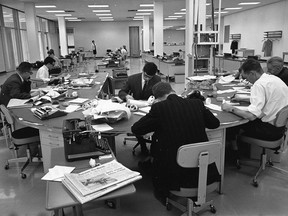 The Sifton family, which owned the StarPhoenix, wanted their paper to punch well above its weight both with the building and with the coverage. They yielded nothing to the larger centres, and designed the downtown plant with the load capacity to add a third floor, and maybe more, as the city grew.
They placed it in the city's very heart, and then they filled it with people.
On a desktop in the sports nook, I see a small stuffed football, which was tossed around the newsroom, from one end to the other, for many years — a heads-up holler, a random throw, a catch, then back to work.
We've published since 1902, and history is thick here. Saskatoon's story, from inception to now, is scattered across the building: Far-flung filing cabinets are stuffed with photos, century-old newspapers, ancient press releases, and folders containing clips and pictures of various local newsmakers through the decades.
Hundreds of scrapbooks, with topic or writer inked on the front, carry chronological clippings glued into place by librarians.
Readmore : Virat Kohli surpasses Sachin Tendulkar, scores most fifties in SENA countries
In the basement is a dingy room we call the morgue, with ceiling-high shelves containing more than a century of back issues.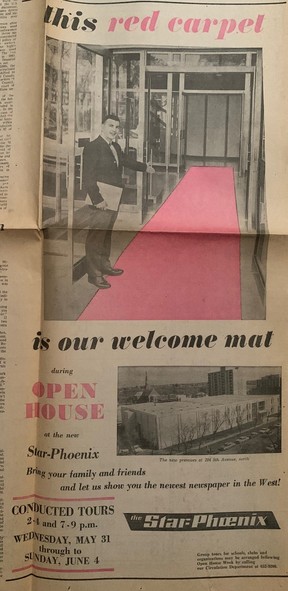 This is a place for the perpetually inquisitive, designed and implemented to tell the story of a city and a province, the good and the bad. In the 1980s, we twice had gunmen fire through the windows of our basement cafeteria.
We received threats, had a few scary incidents, and also had people stop by with donations for our Sporting Christmas campaign. A barbershop quartet sang there, to the applause of staff. Men and women would climb those stairs, and tell us about an injustice or an unusual happening, hoping for a listening ear and somebody to tell a story they held dear.
And through it all, words, and words, and more words — spoken, written, permanently imbedded into our collective history.
A million conversations about this city and this province were held here. The place glowed with ideas. You'd climb the stairs in the morning, learn something new in the afternoon, dig into it, write it, and a few hours later the basement would thrum with the sound of that story rolling off the press, destined for homes all over the city and province.
The press, which workers staffed throughout the pandemic, is shutting down next month, permanently. We're moving those operations to Estevan.
The StarPhoenix paid $11 million for that towering Goss press in 1999, imported it from France to replace the old Crabtree press, and since then it's done what every other press we've ever owned did: Reflect our city, rumble by mighty rumble, with ink and paper.
The first page printed in this building was May 30, 1967, when Saskatoon mayor Sid Buckwold pressed a large button and got things rolling — a day when more than 500 guests toured the place, and StarPhoenix management and staff proudly showed off their bright new structure.
I don't know what's going to happen to all of our vast and scattered archives when the plant sells. Printed history, the stuff written with ink, on paper, is diminished in the minds of many.
But it's important. It's a tangible, touchable, link to our past — vulnerable to fire and theft and abandonment, but not to hard-drive crashes and accidental deletions.
The City of Saskatoon's archives will take a good portion of what we've got, particularly on the photo end, which is a good and comforting thing.
Many items in this building have never been digitized — booklets, old programs, notebooks, hand-written or typed files, unpublished negatives and photos. High-profile court cases are stashed in dusty cardboard boxes: Reporter's notebooks, court transcripts, newspaper clippings, scrawled tips and contacts.
Our original hand press, more than a century old, is displayed in the SP lobby. Hopefully a museum can use it. An ancient cast-iron paper-cutter, which still gets used, sits in the basement, waiting its fate.
Readmore : 7 royals with side hustles
It's a place for memories, too. Our late, great sports editor Doug McConachie, regularly telling callers he had to get off the phone at conversation's end because "I'm up to my ass in alligators."
Cam Fuller, our brilliant entertainment editor, died in 2018, aged 55. His desk has remained unoccupied. On top of it is the antique leather ball-glove he would wear sometimes in the newsroom, pounding the worn pocket with his fist or a ball as he thought over a line or a paragraph. That ball is still nestled inside Cam's glove.
Les Horvath, a sports-loving local man who was also mentally handicapped, phoned our sports department on a daily basis for several years, until cancer took him from us in 2013.
"Hi," he'd always say. "Lots of sports happening today."
We'd watch strategies and plans unfold as major stories erupted in real time. Quickened steps and faster pulses, hasty conferences, rushes to the parking lot, that ever-present energy sparking higher.
That's our building.
A big, ornate clock stands outside the StarPhoenix plant. It was installed in our previous home in 1920, moved to Fifth Avenue with the StarPhoenix, and turned 100 years old in 2020.
Employees in the building have always cared for and maintained the clock.
Time moves on, that clock would tell us today, a truth its spinning hands know all too well.
But, Saskatoon, we're not leaving. We're still here, writing and snapping, imbedding the story of Saskatoon, 2023, into the permanent record. We're still passionate, and curious, and care deeply about what we do.
We communicate now with Slack and Microsoft Teams, and when we hit "send", it's from a basement office, living room couch, coffee shop, or on-site at a venue.
But never again from my desperately cluttered desk, in this wonderful room, with these excellent people.
It's quiet in here now. Empty. Lonesome.
Just me, and a hum, and nobody to say goodbye to when I leave the newsroom after this very last period.