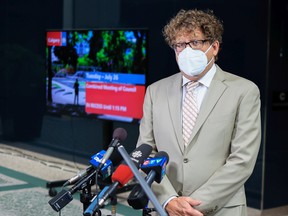 Calgary city councillor Gian-Carlo Carra is facing a mischief charge in relation to an incident that took place in April of this year.
In an email, Edmonton Police Service confirmed the Ward 9 councillor was charged with one count of mischief under $5,000 in relation to the April 2 incident. Carra was charged on Friday.
You are reading: Coun. Gian-Carlo Carra facing mischief charge in relation to roadside confrontation
"The matter was assigned to a detective from the Investigative Response Section in Edmonton and a comprehensive investigation followed," read the email.
"The completed investigation was reviewed by the Legal Advisors Section of the EPS and then subsequently reviewed by the Alberta Crown Prosecution Service."
Readmore : Climate change "humanity's biggest challenge in modern times": COP27 President as climate summit opens in Egypt
Speaking on Saturday, Carra said he intends to fight the charge, and that any legal costs will come out of his own pocket.
"I'm shocked that they decided at the end of the day to press charges," he said. "My intention is to fight this and I'm just going to see what they've got, and that will take some time."
The councillor said his lawyer was informed Thursday the charge was coming. On Friday, he went to a Calgary Police Service facility in the northeast to be booked.
He said two detectives from EPS travelled down to lay the charges, and two members of CPS were also present.
The Edmonton Police Service was asked by the Calgary Police Service to investigate the matter, given Carra's political position both as a city councillor and a member of the Calgary Police Commission. In a statement released Saturday, the CPS explained this request.
"This was done in the interest of transparency and independence, given the fact the situation involved an elected official, who at the time was also serving on the Calgary Police Commission," read the statement.
"As this was not our investigation, and because it is now before the courts, we are unable to comment further."
"No one I have inquired with or was familiar with the criminal justice system has explained to me they've ever been aware of this kind of case taking this amount of time," said Carra.