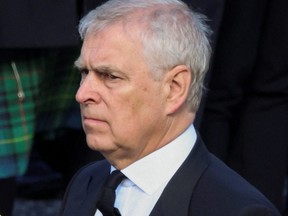 Royal experts say Prince Andrew's reputation is toast and will remain that way — regardless of what Virginia Giuffre does or doesn't write about him in her upcoming memoir.
Virginia Giuffre accused Andrew of abusing her sexually when she was a minor. The Prince has denied the allegations and has denied ever having met Giuffre, the photo of them together notwithstanding.
You are reading: Any restoration of Prince Andrew's reputation seems unlikely
Although insiders say Charles and William have no interest in returning Andrew to any royal duties, Andrew seems convinced he will one day have his good reputation back.
Not likely. As Fitzwilliams points out, it doesn't really matter what Giuffre writes or doesn't write about the prince. Her memoir will remind the public of the accusations against Andrew.
Said Fitzwilliams, "Andrew may have secured an agreement for Virginia Roberts Giuffre never to speak out against him publicly when he settled her civil suit which alleged that she had had non-consensual sex with him on three occasions.
Readmore : Princess Kate gives her countryside aesthetic a city-girl makeover
"If this is so, the fact that she is writing her memoir may not concern him and his legal team unduly.
"If not, it will obviously be of very considerable concern."
The gag order believed to have been signed by Giuffre in her agreement with the Prince is up in March.
"Obviously, any new revelations [in the book] would be of enormous concern," said Fitzwilliams.
The prince has apparently been asked to move out of his rooms in Buckingham Palace. He has been stripped of all military titles and has been nixed for any return to public duties.
Andrew may think he'll soon be back in public favour, but most have their doubts about that.
Readmore : Palace preparing for Prince Harry, Meghan to attend Charles' coronation: report
Even if he has a legal all-clear, said Fiztwilliams, "to actually clear his name it would also be necessary to have some credibility in the court of public opinion where his ratings are terrible."
The photo of Andrew with Giuffre is a problem, the expert continued, despite Ghislaine Maxwell sticking up for the prince from her prison cell recently and declaring the photo fake.
It all went to hell after the Duke's ludicrous interview with the BBC's Emily Maitlis.
That, said Fitzwilliams, "has become infamous and has made a public comeback all but impossible."
Giuffre is said to have made a lucrative book deal and it's expected she is writing a memoir about being trafficked by Jeffrey Epstein.
 It is expected that Giuffre's memoir about being trafficked by Jeffrey Epstein will be released in time to overshadow the pomp and circumstance of King Charles' coronation.