First generation to use the term Chinese Canadian were often excluded in a period of open discrimination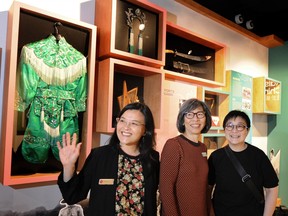 The uniform made of emerald satin is embroidered with sparkly silver threads, sequins and a dramatic fringe.
It belongs to 84-year-old Donna Chan, who started a Vancouver girls drill team that was the pride of Chinatown in 1959 when it took home the top trophy at the PNE parade.
You are reading: New Vancouver exhibit shows how young Chinese Canadians forged their own identity in an era of discrimination
Each member had a uniform like this one, which is now part of a newRaised in Chinatown exhibit that opened Sunday and continues to mid-June at the Chinatown Storytelling Centre.
Chan, who will speak at an upcoming event at the centre on Feb. 26, was 19 when she had had enough of taking Chinese painting classes.
So she rallied some friends and, lining up sugar cubes in her bedroom, she mapped out several marching patterns for them to follow.
They practised these in different locations around Chinatown, including the Strathcona school field, the Ding Ho drive-in restaurant parking lot and the CN Terminal, according to Ramona Mar, who curated the exhibit.
"She was a Seaforth (Highlander) air cadet so she understood the idea of a drill," said Mar.
Readmore : Samuel L. Jackson responds to Quentin Tarantino's anti-Marvel comments
After the team was sponsored by the Chinatown Benevolent Association, it came up with these uniforms inspired by Cantonese opera warrior costumes and had them made to order from Hong Kong. Each had an accompanying headdress piece and they wore these uniforms in parades and ceremonies.
"It's a very moving message. They had a can-do attitude and were very successful. They had vibrant childhoods despite the times," said April Liu, who connected the storytelling centre with a team of 19 design students at Langara College to develop the exhibit.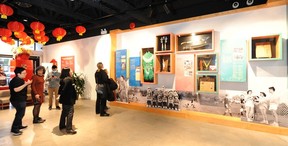 There is a video of the drill team in action. There are also rare archival photographs showing scout groups, soccer, tennis and martial arts teams based in Chinatown in the decades between 1910 to 1960, before major waves of immigration started in the 1970s and transformed Vancouver.
"They were the first-generation to really use the term 'Chinese Canadian.' They put it on their membership, on their letterhead and called themselves Chinese Canadians. It was a huge and important milestone in Chinatown," said Liu.
"It was a time when they were excluded from everything and there was lots of discrimination, so they took it upon themselves to make their own clubs, their own costumes and create their own names … You could see how much pride they had in who they were."
Liu thinks the Langara students, who are part of the college's design formation diploma program, were energized by the idea of these "young people taking control of their lives, essentially, and asserting their presence in public spaces."
They took the pieces, photos and raw text files and brought them together at the front of the storytelling centre.
Readmore : Allison Hanes: Quebecers must not be bystanders to abuse in sports and at school
One of the captions reads: "While their parents worked hard, the task of forging a Chinese Canadian identity fell to the children who were raised in Chinatown/Strathcona during the 1910s to the 60s."
Maria Zaina, one of the Langara students, said she could feel the vibrant energy of the team in the uniform.
"You can really picture the group of girls having fun with it and being part of that community," she said.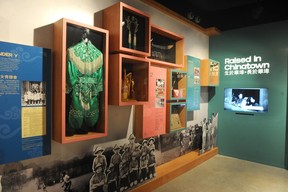 At its height, the team included 50 young women with some as young as 13, said Mar. A volunteer from a pipe band taught them to drum. After winning the trophy in 1959, the team later toured numerous towns outside of Vancouver.
But not all young people had the spare time to take part in recreational opportunities like this, said Mar.
At the February event, two speakers will join Chan to offer other perspectives about growing up in Chinatown in this era.
Elwin Xie fixed machinery and delivered packages of clean tablecloths to restaurants for his father, who owned Union Laundry. Peter Joe, the CEO of Sunrise Soya Foods, worked at the family grocery store before it became a major tofu business with customers across Canada.