It sure doesn't seem like Alberta businesses believe that core planks of the Fair Deal Panel will help their companies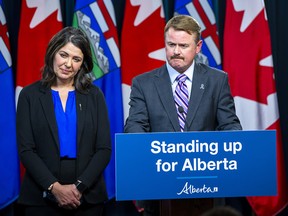 As the province's strategy to fight back against Ottawa moves into a new phase, it sure doesn't seem like Alberta businesses believe that core planks of the Fair Deal Panel will help their companies.
In fact, a new poll of business operators conducted by the Alberta Chambers of Commerce found a majority believe withdrawing from the Canada Pension Plan and establishing a provincial program would disadvantage their companies over the next three to five years.
You are reading: Varcoe: Alberta businesses not sold on benefits of ditching CPP or creating police force
Similarly, the ideas of establishing a provincial police force and creating a provincial revenue agency to collect all taxes within Alberta are seen as being more detrimental than helpful to their businesses.
More broadly, the survey indicates opinions have changed over the past two years on proposals that the panel made on how Alberta could "ensure it has a strong voice in Confederation."
"There was definitely a marked shift from 2020," said Jason Leslie, chief operating officer of the Alberta Chambers of Commerce.
The concept of pulling out of CPP, creating an Alberta police service and establishing a new Alberta revenue agency were examined by the Fair Deal Panel. It was assembled three years ago by then-premier Jason Kenney as tensions escalated with Ottawa over issues such as equalization.
The premier asked Toews to make recommendations on an Alberta pension plan that would "increase pension benefits for seniors and reduce premiums for workers."
Smith also asked the finance minister to make recommendations about creating a new provincial revenue agency that would collect all Alberta taxes. Ottawa currently collects the federal and provincial portions of personal income taxes from residents, while Alberta takes in provincial corporate income taxes.
Shandro was asked to finalize a decision on establishing an Alberta police service; Smith has previously said she'd like to see a provincial force augment the RCMP.
When asked about the effect on their businesses of withdrawing from CPP and creating an Alberta pension plan, 54 per cent said it would be a disadvantage, while 35 per cent believe it would be a benefit.
The net difference — 19 percentage points — was up sharply from five percentage points in a similar chamber poll completed in 2020.
Readmore : Jude Bellingham slams 'joke' penalty after Dortmund's Champions League exit to Chelsea
The idea of creating a new provincial revenue agency to collect provincial and federal taxes within Alberta also saw a drop, with 44 per cent saying it would be a disadvantage, while 35 per cent saw it as a benefit.
The concept of a provincial police force to replace the RCMP also shifted.
The survey found 56 per cent of respondents see it as a disadvantage to their businesses, up from 29 per cent in 2020, while those considering it a benefit increased slightly to 34 per cent.
Leslie pointed out that senior business leaders (including company owners and executives) who responded to the survey were more "nuanced on areas where they see opportunities for the province to advance its economic interests."
For example, 47 per cent of the senior leaders see it as an advantage for Alberta to play a larger role in international relations and negotiations that affect the province's interests, compared with one-third of all respondents.
Alberta chambers CEO Shauna Feth said Friday the group hasn't adopted a formal position on these proposals, but conducted the survey to inform debate on the matters.
"The government really should engage with the business community so they can better understand some of their concerns," she said.
"When you take a look at CPP's performance, with annual returns of 10.1 per cent, you can understand why businesses would be a bit concerned."
At the end of September, the Canada Pension Plan Investment Board (CPPIB) reported net assets of $529 billion, with a 10-year annualized net return of 10.1 per cent.
In an interview in Calgary this week, CPPIB chief executive John Graham said the fund has delivered strong returns, calling the Canada Pension Plan "one of the best examples of federal and provincial co-operation, almost in the history of the country."
However, it's up to Albertans to decide whether to create a provincial plan, he added.
Readmore : Max Homa comes from five back to win Farmers Insurance Open
"There are obvious benefits to a national plan. Think about the risks in a pension plan, think about the risks of not delivering the intended benefit to the beneficiaries," he said.
"The broader one can diversify those risks, that pool those risks across a diverse set of the population, the lower ultimately the risk is to the beneficiaries."
Earlier this month, Toews said he personally believes an Alberta pension plan "holds great promise" and noted the province contributes more to CPP than residents gets back in benefits — in the neighbourhood of $5 billion annually in some years.
Alberta pollster Janet Brown said the results from the chamber's survey are not a surprise, following similar trends seen in the general population toward some of the Fair Deal proposals.
"Proponents of these ideas have not done a good job at selling them to the general public," she added.
The views of business operators across Alberta aren't the only feedback the province must weigh as it makes key decisions on matters such as ditching the CPP or creating a new revenue agency.
But they also can't be overlooked.
"I know there are issues with Ottawa . . . but this idea that we have to run around and do all these things just doesn't sit with me," said George Brookman, chair of WCD Inc. and past-chair of Tourism Calgary.
"As a business owner and a business leader and a senior, I would be opposed to the province starting its own pension plan.
"If it isn't broken, don't fix it."
Chris Varcoe is a Calgary Herald columnist.